Ladislav Mezei, violoncello and Milan Popović, piano
22.11.2021., 20:00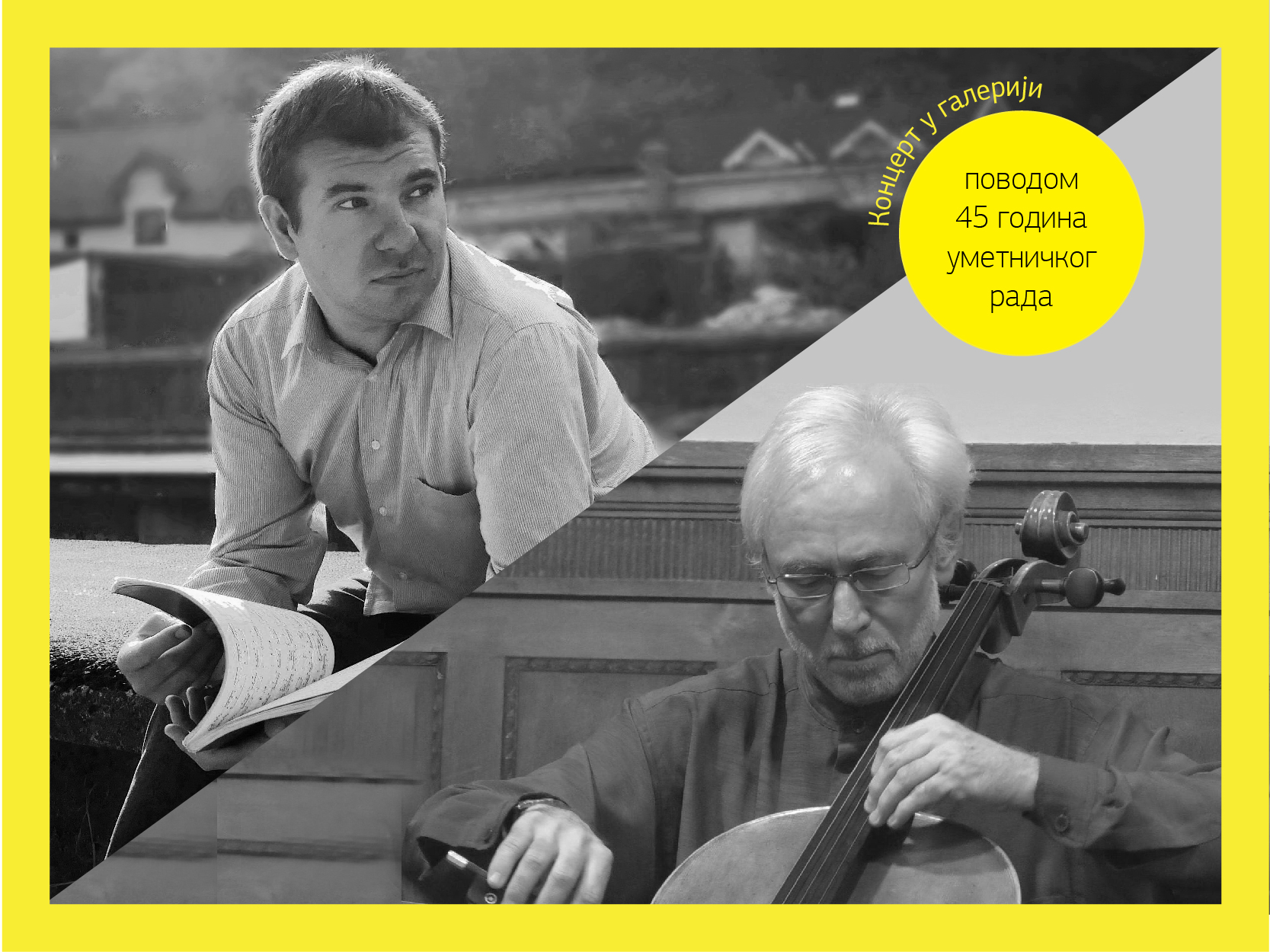 According to the health and safety guidelines for suppression of the epidemic, the number of attendees in the venue is reduced. It is important to book your seat by e-mail damjana.njegic@kcb.rs or by phone 011 2622 058 not later then noon at the day of the concert.
Johann Sebastian Bach
Sonatas for Viola da Gamba (cello) and Harpsichord (pinao), BWV 1027-1029
Sonata No. 1 in G major, BWV 1027
Adagio
Allegro ma non tanto
Andante
Allegro moderato
Sonata No. 2 in D major, BWV 1028
Adagio
Allegro
Andante
Allegro
Sonata No. 3 in G minor, BWV 1029
Vivace
Adagio
Allegro
Biographies:
Full time professor MA Ladislav Mezei (Subotica, 1952) finished elementary and secondary music school, in addition to a regular high school, in his hometown, in the class of Mirko Molnar, professor known as an excellent educator and a man who has trained many young cellists, working today in the most notable orchestras throughout the former Yugoslavia and the world. Already as a student Ladislav Mezei showed an explicit commitment to the call of a musician. He often performed as a soloist and a player in chamber music ensembles, participating in all major music school concerts and visits in the towns in Serbia and neighboring countries. He graduated in academic year 1975/76 from Faculty of Music in the class of Professor Viktor Jakovčić. As a student, he performed as a soloist and a member of the baroque ensemble "Florida Musica" and the Academic Chamber Orchestra "Jeunesse Musicale", conducted by Professor Dušan Skovran. With this orchestra he took part in numerous national and international tours in Belgium, Switzerland, Italy and other countries.
He finished postgraduate studies in 1997 in the class of Professor Sandra Belić. He participated in a professional seminar in Brno and summer course in Ohrid by world renowned cellist Andre Navarra. The period of 1980/81, he spent at the postgraduate training at the "Music Academy Ferenc Liszt" in Budapest in the class of Professor Onczai Csaba, where he significantly expanded his knowledge of chamber works requiring the presence of a cello and its distinct role. As a pupil and a student Ladislav Mezei received many awards for solo and chamber performances, prizes in national competitions, such as the third prize at the Yugoslav competition for young music artists in Zagreb in the category piano trio (first not assigned) and an annual student award of the Faculty of Music.
Milan Popović is a harpsichordist and pianist, active as a soloist and a chamber musician, piano accompanist and continuo player. He graduated (BA in Harpsichord and Piano) at the Faculty of Music in Belgrade, in the classes of the full Prof. Ninoslav Živković and the full Prof. Zorica Ćetković. In 2013, he successfully defended the thesis of his doctoral art project named "Interpretative connections between 18th and 20th century French Keyboard Music". During the schooling, he attended numerous master classes held in the country and abroad. He was a fellowship holder of the Austrian Baroque Academy from Gmunden and worked with numerous harpsichord players and professors, such as Egon Mihajlović (Germany), Siegbert Rampe (Germany), Blandine Rannou (France), Jory Vinikour (USA), Maria Louisa Baldassari (Italy), Erich Traxler (Austria), Anne Marie Dragosits (Austria), Eugene Michelangely (France). He is the recipient of laureate awards, the first and other prizes at numerous pianistic competitions of both the local and international character. Milan Popović had guest performances at music festivals both in the country and abroad (Ars Vivendi Clavicembalum,  Trigonale, Aestas,  Early Music Festival), at which he gave a number of recitals of soloistic and chamber music. Apart from regular appearances in the country, he has given concert recitals and has had guest performances as a soloist and chamber musician in Austria, Croatia, Bulgaria, and Spain. As a soloist, he gave performances with The Serbian Army Artistic Ensemble Stanislav Binički, as well as with the Faculty of Music Orchestra. He was associate of the RTS Symphony Orchestra, an associate of the Stanislav Binički Artistic Ensemble, The Jewish Chamber Orchestra, and the official continuo player of the Baroque Orchestra Aestas and The New Belgrade Opera Baroque Orchestra. He is a member of the early music ensemble Temenos. The concert appearances of Milan Popović have been recorded in the form of permanent audio recordings and have been broadcast within the programmes of Serbian Radiotelevision and the Austrian Radio ORF. He is the initiator and The Artistic Coordinator of the manifestation Days of Early Music (holding on the Faculty of Music from 2013 onward), under the support of European Early Music Network. He is the Assistant Professor of Harpsichord on The Faculty of Music in Belgrade.