18th International Festival "Ars vivendi clavicembalum" – ANA MARIJA KRAJNC (Slovenia)
11.12.2021., 19:00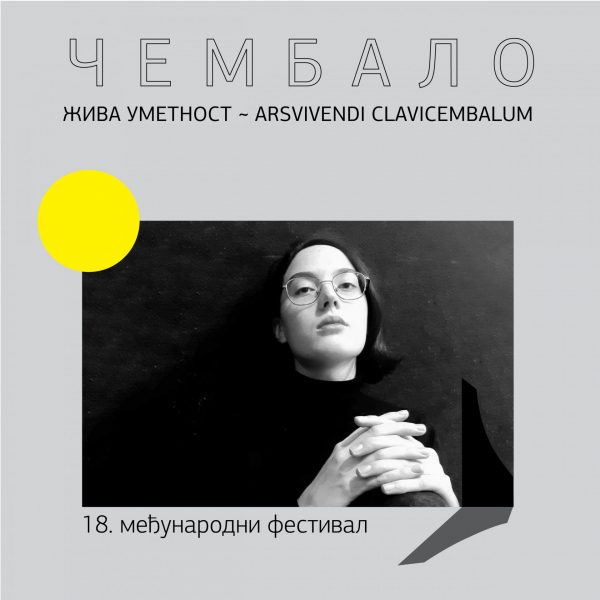 One of the most talented young harpsichordists of Slovenia, Ana Marija Krajnc will give a solo recital on Saturday, 11th December at 19:00 in the Central Military Club.
Concert is organized in collaboration with Odbrana Media Centre and the Art Ensemble Stanislav Binicki, and with the support of Slovenian Embassy in Belgrade.
Program:
Giovanni Paolo Cima (c. 1570–1622)
Canzon Quarta – La Pace
Girolamo Frescobaldi (1588–1643)
from Il secondo libro de toccate, canzone…di cimbalo et organo
Toccata prima
Canzona prima
Jan Pieterszoon Sweelinck (1562–1621)
6 Variations on Mein junges Leben hat ein End
Johann Sebastian Bach (1685–1750)
English Suite No.3 in G minor, BWV 808
Prélude
Allemande
Courante
Sarabande
Gavotte
Gigue
Johann Joseph Fux (1660–1741)
from Capriccio in G minor, K404
Capricio et fugue
Allegretto. La superbia
Gustuoso. Arietta
Biography:
Ana Marija Krajnc (Ljubljana, 1999) is a harpsichordist, organist, pianist and chamber musician. In Ljubljana studied harpsichord with prof. Egon Mihajlović and organ with doc. Dalibor Miklavčič. Now, she is studying both instruments in Milan as part of the Erasmus + program, with the well-known professor, organist and harpsichordist, Lorenzo Ghielmi. Aldo, Ana Marija passed the entrance exams for piano at the Academy of Music in Ljubljana, after she attended the Summer School for harpsichord with Professor Egon Mihajlović in Ljubljana and after her first encounter with this wonderful, but lesser-known instrument in our area, she decided to shift her musical path. She re-applied for the entrance exams, this time to the department of early music, and again passed them successfully. She has participated in numerous international and national competitions and achieved excellent results: at the Davorin Jenko International Competition 2014 in Belgrade she won second prize, at the Carinthian Piano Competition in 2013 she won a silver award, awards at the national competition TEMSIG 2014, 2015 and 2017, at the international competition Banja Luka Biennale in 2017 she won the first prize. She has attended numerous master classes with renowned professors such as Jonas Herzog, Christian Scheifele, James Johnstone, Tomaž Sevšek, Jeremy Joseph, Marton Borshanyi and Lorenzo Ghielmi for organ, Jasminka Stančul, Tatjana Ognjanović, Lidija Malahotky Haas and Aleksandar Serdar for piano and Corrado de Bernart, Paolo Mašić, Egon Mihajlović, Michael Hell, Tomaž Sevšek for harpsichord and others. In july, she received a scholarship in order to attend Tage der Alten Musik masterclass on organ with prof. Wolfgang Zerer in Pöllau, Austria. She is very active as a chamber musician. She has collaborated with choirs (among which the vocal group Inspiritu stands out) singers and instrumentalists. She performed with violinist Eva Vrečko and she has been playing regularly in a duo with flutist Milana Drobac (in November 2019 at the Harpsichord, living art Festival in Belgrade). In July 2021, she and the violinist Vivijana Rogina played Bach's demanding chamber work – the Sonata for violin and the obligatory harpsichord in C minor at their concert in City Hall of Ljubljana, and now they are continuing their colaboration. As a harpsichordist Ana Marija Krajnc was featured twice as a soloist in the concert cycle of the Slovenian Baroque Orchestra in 2020 and 2021. In november 2021 she joined the Slovenian Philharmonic's Chamber Orchestra in performance of Bach's Concerto BWV 1043. Ana Marija Krajnc was also selected as soloist for two recitals in Milan's well known concert cycles in 2022: Vespri in San Alessandro and Meditazioni con l'organo in San Simpliciano.