Milica Sekulić, piano and Ljubica Sekulić, viola
20.12.2021., 20:00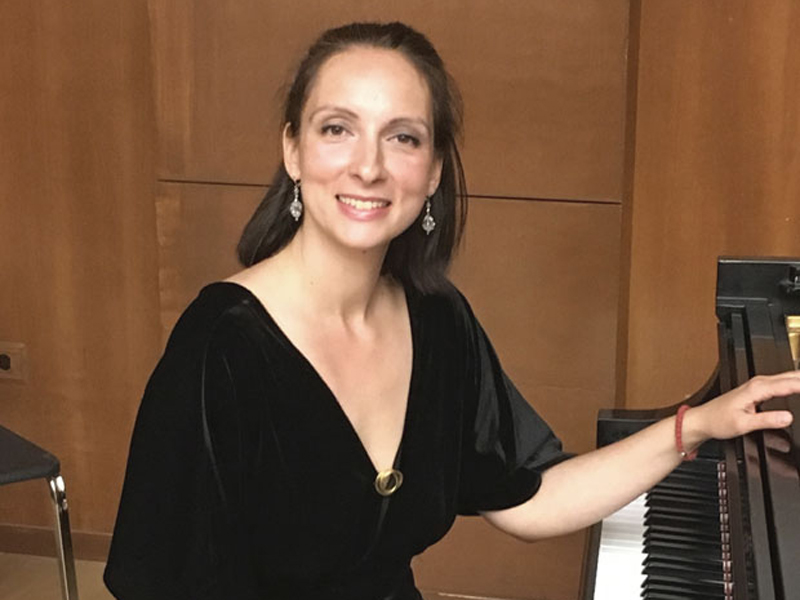 Concert is organized in cooperation with Italian Institute for Culture.
Program:
Vera Milanković
Nocturno
Momačko kolo
Devojačko kolo

Wilhelm Stenhammar
3 Fantasias, Op.11

Lars-Erik Larsson
God in Disguise (Förklädd gud), Op. 24
arr. Ljubica Sekulić

Alexander Scriabin
2 Poèmes, Op.32
Valse Op. 38

Josip Slavenski
Piano suite From the Balkans
Pevanje
Zagorski tamburaši
Pevanje
Drmeš iz Međimurja


Biography:
Pianist Milica Sekulić has performed in Serbia, USA, Japan, Sweden, England, Ireland, Denmark, Finland, Bosnia, Croatia, Montenegro, Macedonia, France, Switzerland, Austria, also she appeared as a soloist with the Royal Swedish Philharmonic, The Belgrade Philharmonic, Yugoslav Military Orchestra, the Stockholm Academic Orchestra, Collegium Academicum Orchestra. In 2007 she received the award for the best young artist by the Society of Music Artists of Serbia. She has played in chamber music groups with more than 100 instrumentalists and singers, and she was the pianist for the piano trio Classica Aeterna in Belgrade. She has recorded for TV and radio as a solo pianist, chamber musician and harpsichordist. Born in Belgrade, Serbia, Milica graduated from the Music School Dr. Vojislav Vučković in the class of Professor Olga Bauer, and she also studied piano with her grandmother piano professor Jela Kršić and mother pianist and professor Vesna Kršić Sekulić. She completed her Baccalaureate and Magisterial piano studies at the Academy of Musical Art in Belgrade in the class of Professor Mirjana Šuica – Babić, and completed her degree in harpsichord under the mentorship of the Prof. Miloš Petrović. She has won the highest awards in domestic, regional, and international competitions performing as a soloist and piano duo, and republic competitions in solfege. As a student in Belgrade, she was awarded – for the best performance of a sonata in 1999 by Katarina Aćimović Foundation, and for the most promising student in the piano department of the Academy of Musical Art in Belgrade in 2000 by the Emil Hajek Foundation. She continued her post-graduate studies at the Royal College of Music in Stockholm, where she earned her soloist diploma in 2005 in the class of Professor Anders Kilström. Milica worked as piano professor in Music High school Stankovic in Belgrade (2007- 2016), and as a chamber music professor and piano accompanist at the Academy of Fine Arts Belgrade. She has collaborated with distinguished musicians and composers, from Serbia and Japan focusing on contemporary music from the two nations. This collaboration culminated in a 2011 concert held at Yumeria Hall in Tokyo. The compositions in the program were from Serbian and Japanese composers. Milica also gave a seminar on Serbian piano compositions and music in the Embassy of Serbia in Tokyo, which was attended by Japanese composers, critics, and modern music enthusiasts. Milica is a Faculty member at Montgomery College and a freelance pianist and accompanist in the Washington DC area, based in Potomac, Maryland with her husband and children.