Jovan Rošulj, piano
14.02.2022., 19:00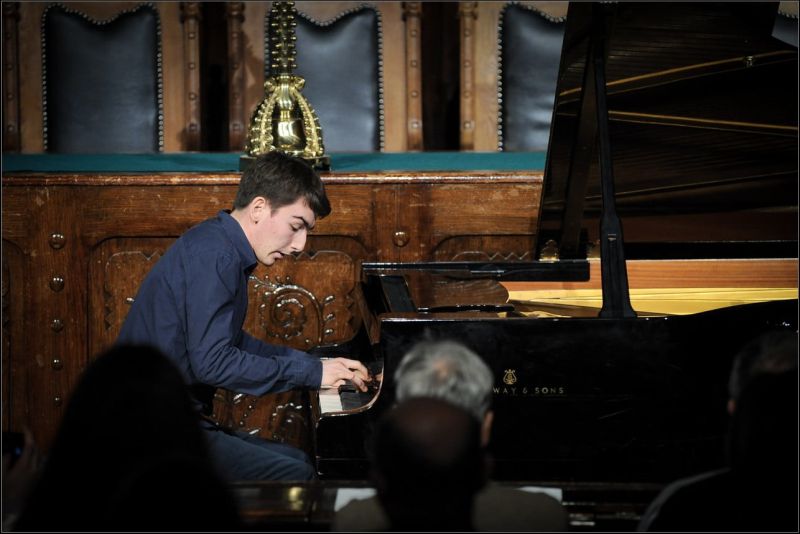 According to the health and safety guidelines for suppression of the epidemic, the number of attendees in the venue is reduced. It is important to book your seat by e-mail damjana.njegic@kcb.rs or by phone 011 2622 058 not later then noon at the day of the concert.
Program:
Wolfgang Amadeus Mozart
Piano Sonata No.14 in C minor, K.457
I Allegro
Franz Liszt
Waldesrauschen, S. 145/1
Pyotr Ilyich Tchaikovsky
Dumka, Op. 59
Frederic Chopin
Ballade No. 3, Op. 47
Isidora Žebeljan
Circus
Ludwig van Beethoven
Violin Sonata No. 1, Op.12/1
I Allegro con brio
Astor Piazzolla
Invierno Porteño (Arr. for piano trio)
Dunja Kalamir, violin
Anja Rađenović, cello
Jovan Rošulj, piano
Biographie:
Jovan Rošulj was born on January 26th, 1999 in Belgrade, Serbia. When Jovan was 9 he started playing the piano. It was taught by the famous Serbian educator and pianist Branka van Goudzwaard. She guided his artistic development by taking part in many local and international competitions, having the opportunity to play with an orchestra, and developing both as a soloist and chamber musician. Jovan has been studying piano at the Dresden University of Music since September 2019. His greatest enthusiasm has always been to accompany singers on the piano.