PEPPA and POINTS! NIKOLA VELICKI
03.03.2022-07.04.2022, 12:00-20:00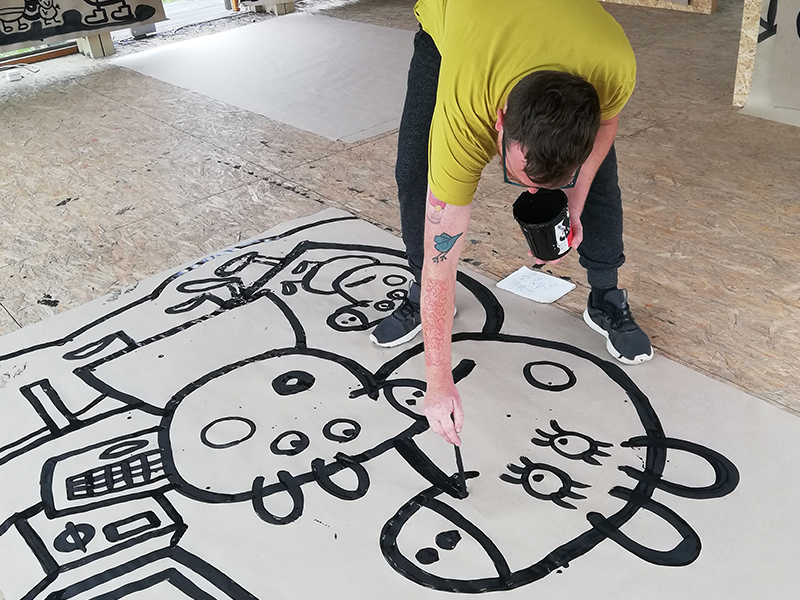 PEPPA and POINTS!
NIKOLA VELICKI
3.3 – 7.4.2022.
…Velicki chose the motive of Peppa Pig intuitively, unburdened with semantic loadings and readings, but allowing them to weave freely and spontaneously. Peppa proved to be a suitable training ground for style exercises, a framework that enabled him to play expertly, primarily with various printmaking and drawing procedures. Namely, here we can follow the way in which a prominent figure of the children's world emancipates herself from her domicile framework, continuing her life in a wider cultural sphere, becoming a pop icon, a sign of the times.
Regardless of the technique he uses, Velicki is always committed to a wide, firm stroke, expressive gesture, flatness, to a monumental format – the dominant features of his overall opus. On the one hand, he finds his role models and a kindred sensibility in the simple, symbolic and untainted art of prehistory, of ancient and distant civilizations, in a word, of primeval art, but also in children's drawing, then, in art brut, and all the way to graffiti, street art, comics. Some artists close and inspiring to him are Debuffet, Warhol, Haring, Basquiat, Penck, Grayson Perry, Miomir Grujić Fleka. He dedicated his graphic cycles, among others, to Aboriginal people, roadside tombstones, airplanes.
His entire work, just like the cycle inspired by Peppa Pig, is characterized by conscious infantilism, play, humour, knowledge of and respect for traditional printmaking and fine arts techniques and skills, openness to experiment, as well as a creativity that could be described as "urban primitivism".
Nikola Velicki was born in 1983 in Niš. He graduated (2008, Professor Miodrag Mlađović) and received his doctorate (2017, Professor Vladimir Veljašević) from the Faculty of Fine Arts in Belgrade. A member of ULUS (Association of Fine Artists of Serbia) since 2009. He works at the Faculty of Fine Arts as an assistant at the Graphics Department. His works have been presented at 20 solo and over 90 group exhibitions in the country and abroad.