FINNISH FILM WEEK: FINNISH STORIES ABOUT LOVE / 9.4.
09.04.2022., 18:00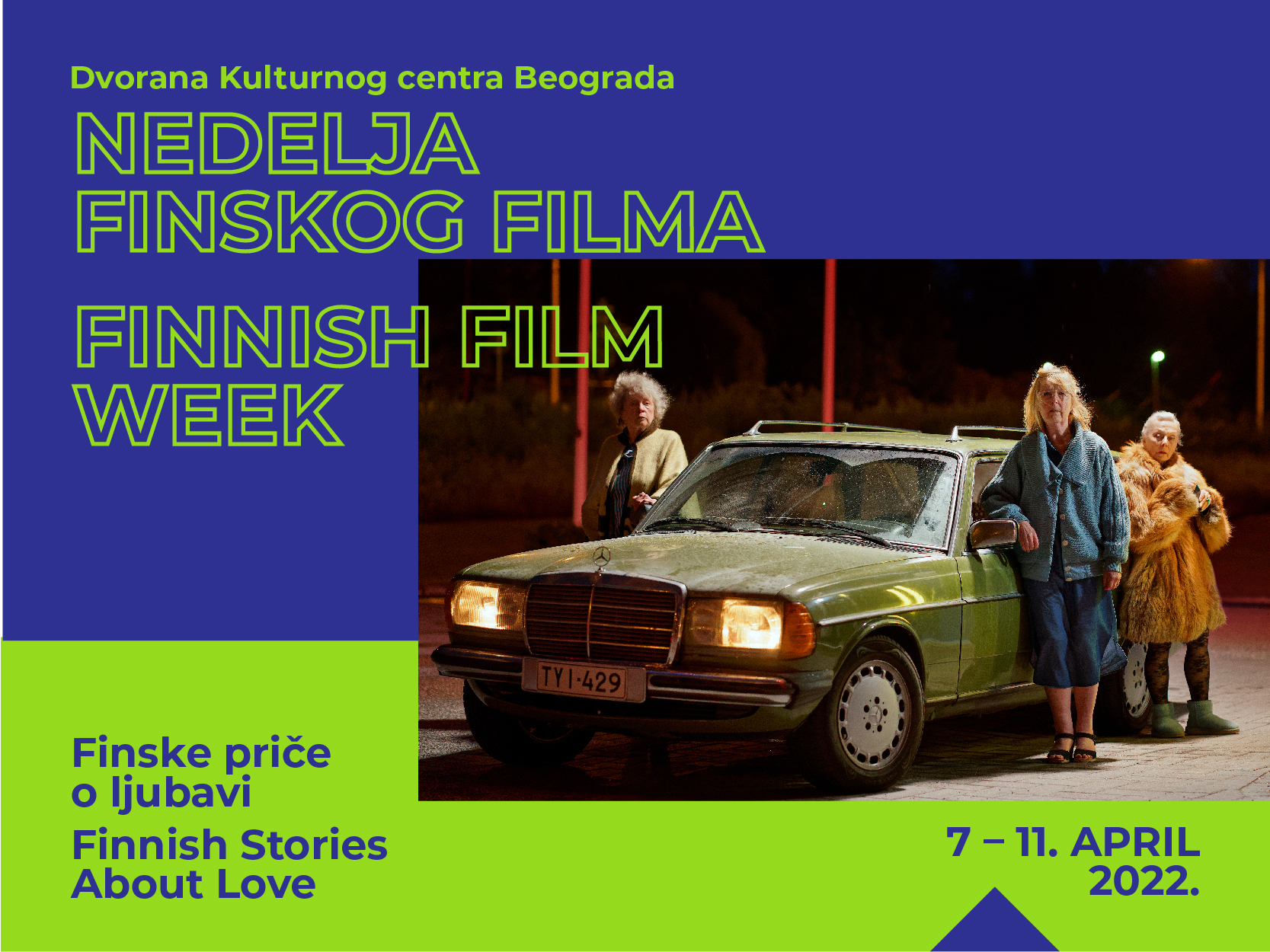 FINNISH FILM WEEK: FINNISH STORIES ABOUT LOVE
7 – 11. APRIL 2022
Cultural Centre of Belgrade Movie Theatre
Saturday, 9. 4.
18.00
LADIES OF STEEL
TERÄSLEIDIT
Finland, 2020, 92'
Directed by: Pamela Tola
Cast: Leena Uotila, Saara Pakkasvirta, Seela Sella, Heikki Nousiainen
Inkeri, seventy five, has hit her husband on the head with a frying pan after being belittled by him for almost fifty years. Suddenly, she realizes it's time to live a little before going to prison. For a one last road trip, Inkeri takes her sisters Sylvi and Raili on a wild ride through Finland.
Festivals and awards: Best Comedy nomination at European Film Academy Awards; Best Supporting Actress Award at 'Jussi' Awards
Pamela Tola is an actress, writer and director, born in Ruotsinpyhtää. She graduated with Master of Arts degree from The Theatre Academy of Helsinki in 2008. Her directorial debut was the short film Burungo in 2011.
Tola has appeared regularly on television since 2003. She played the leading roles in the films Paha Maa / The Frozen Land (2005) and Saippuaprinssi / The Prince of Soap (2006). The first feature film she directed was Swingersin 2018.
20.00
FOREST GIANT
METSÄJÄTTI
Finland, 2020, 88'
Directed by: Ville Jankeri
Cast: Jussi Vatanen, Sara Soulié, Hannes Suominen
Pasi works for a large corporation. He gets a great business opportunity when the company sends him to his hometown to downsize the local timber factory. In order to get ahead at work, Pasy has to decide which workers to fire, but as he reconnects with old friends, that decision is becoming more and more difficult. A warm drama dealing with current issues in which we can easily recognize the present situation in our own society.
Festivals and awards: Best Leading Actor nomination at 'Jussi' Awards.
Ville Jankeri was chosen to make a short film for the Berlin Today Award competition – The Last Wash premiered at the Berlinale Film Festival in 2008. Sixpack (2011), his first feature film based on an acclaimed novel by Mikko Rimminen, has been successful with both critics and viewers. Gold Digger (2016), his second feature film, has had a successful run in theaters.