FINNISH FILM WEEK: FINNISH STORIES ABOUT LOVE
07.04.2022-11.03.2022, 20:00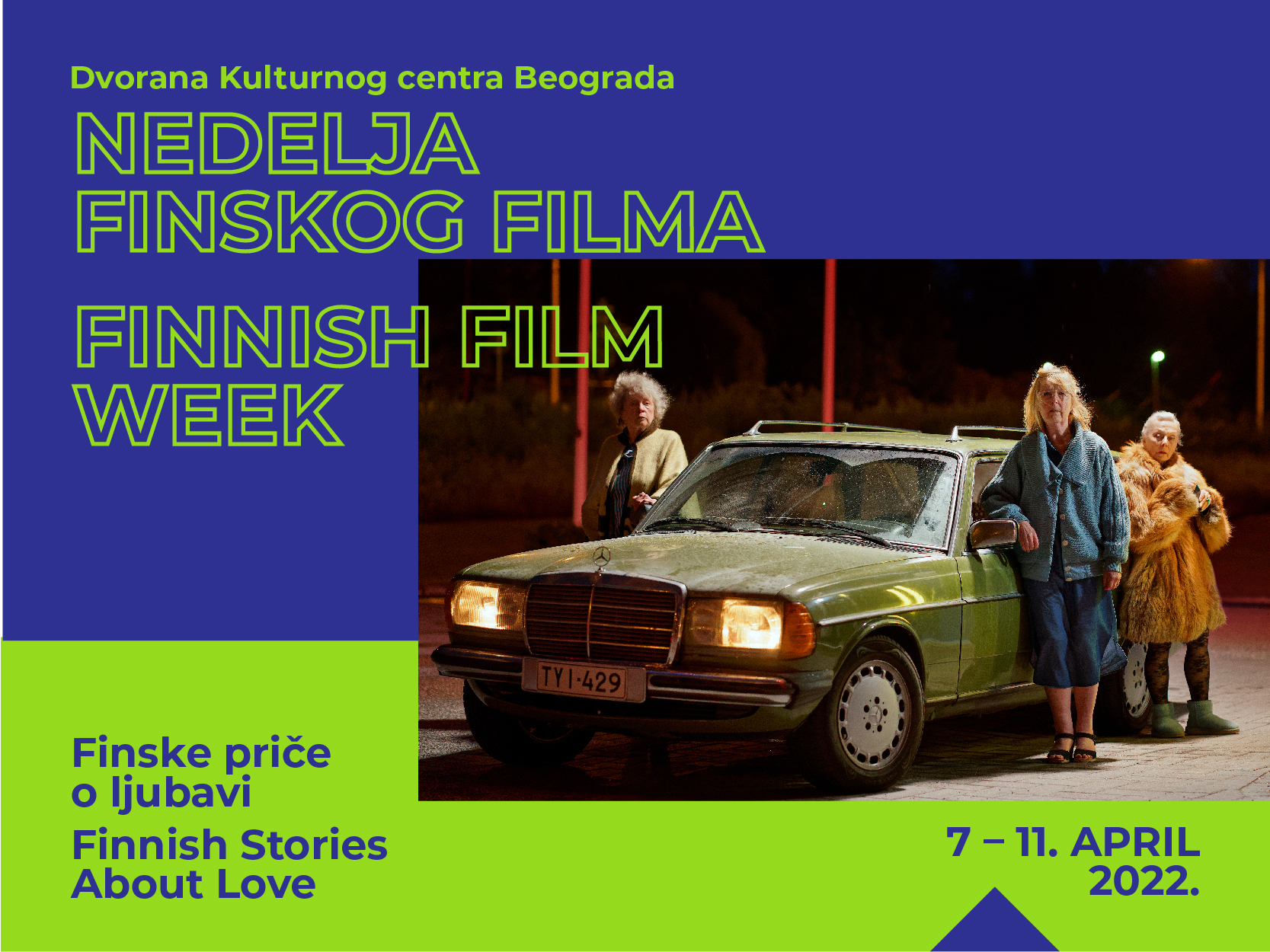 FINNISH FILM WEEK: FINNISH STORIES ABOUT LOVE
7 – 11. APRIL 2022
Cultural Centre of Belgrade Movie Theatre
Kolarčeva 6
 
 FINNISH STORIES ABOUT LOVE
An unusually long time, four years, has passed and I believe you are looking forward to a good Finnish film. Two years ago the already prepared Biennial Week of Finnish Film had to be cancelled due to the Covid-19 pandemic. If there's anything good in all this, it's that now you're offered the best of the best of Finnish cinema in the past four years. And plenty of exciting achievements have emerged in this period.
The controversial film DOGS DON'T WEAR PANTS by an old acquaintance and guest of our festival, Jukka-Pekka Valkeapää, had a successful world premiere and excellent reviews at the Cannes Film Festival. Uncompromising in wanting to delve into the depths of sadomasochistic sexual relationship through which grief, love and salvation refract, this film will definitely test the limits of audience endurance with its explicit scenes, but the brave will eventually be rewarded with the emotion of strong and pure love.
THE BLIND MAN WHO DID NOT WANT TO SEE TITANIC by Teemu Nikki arrives crowned with the Audience Award at the Venice Film Festival. Expressive in form, surprising in narrative and incredibly exciting, it will take you on an unexpected journey with the tension of a top thriller.
There are also two great films that, in completely different ways and without pathos, deal with the burning topic of refugees. Miia Tervo's AURORA, which opens the festival, brings us an old acquaintance Amir Escandari, this time as an excellent lead actor in intelligent play with the popular genre of romantic comedy. Amir will join us at the festival this year again, not missing the opportunity to visit Belgrade, where he, as a refugee from Iran, spent several years of his boyhood in a refugee camp. Hamy Ramezan had a similar destiny and he turned his experiences into the award-winning film ANY DAY NOW, a warm family story from the perspective of a 13-year-old boy who is discovering the world around him to the fullest, aware that he can be deported from Finland at any moment.
For those who prefer period films, there is TOVE by Zaida Bergroth, a biography of an icon of Finnish culture, the author of novels and comics about the world-famous children's heroes Moomins. But don't expect a children's film; it's a story about sexual and social freedoms, a bisexual love triangle that contributed to the creation of the famous fairytale heroes.
Another film dealing with complex love intrigues, among a group of friends who gather in a villa on a beautiful Finnish island, is Jenni Toivoniemi's ensemble film GAMES PEOPLE PLAY.
The dilemma of work or friends and the challenges of corporate neoliberal society are strongly and topically articulated in the warm drama FOREST GIANT by Ville Jankeri, in which we will easily recognize our own reality. The film will surely make you laugh and feel moved and, after the screening, you'll have the opportunity to talk with the director Will Jankeri, who is a guest of the festival.
And finally, in the true tradition of twisted Finnish humour, LADIES OF STEEL by Pamela Tole follows an old woman who, after many years of suffering humiliation, negligently kills her husband, and then embarks on her last journey through Finland with her sisters; to live a little before she is arrested.
All these different films are centred on love, in a wide variety of its shapes and forms: youthful, belated, lesbian, sadomasochistic, unwavering, impossible, unexpected, elusive… Be open and ready for surprises.
Welcome to the Finnish Film Week in Belgrade!
Stefan Arsenijević
Finnish Film Week Selector
………………………………..
Guests of this year's Finnish Film Week are JAANA PUSKALA, AMIR ESCANDARI and VILLE JANKERI.
 
Jaana Puskala is the head of the International Department of the Finnish Film Foundation. For a long time she has been promoting Finnish film with dedication and expertise and it is thanks in large part to her ability that it is more and more present on the international festival scene.
Since 2010, in cooperation with the Cultural Centre of Belgrade and the Embassy of Finland, she has regularly organized the Finnish Film Week in Belgrade, which, to the mutual satisfaction, has become a traditional biennial event. The previous edition in 2020 was skipped due to the COVID-19 pandemic. We are now looking forward to meeting her again as an old friend and a great professional.
Amir Escandari was born in 1979 in Tehran. When he was seven, his family emigrated to Yugoslavia. Amir grew up in a refugee camp in Belgrade. At the beginning of the war in this area, they left for Finland, where they received asylum. When he was a boy, his father gave him a Super-8 camera with which Amir made a series of short films. He studied film directing at the University of Wales, Newport. The topics that interest him are social alienation and identity.
His first feature film Pixadores had its world premiere at the world's most important IDFA: International Documentary Film Festival in Amsterdam and has won a number of awards in the country and abroad. With this film, Amir opened the 2016 Finnish Film Week. This year he opens our festival again, this time as an excellent lead actor in the multi-award winning film Aurora. We are glad to host him in the city of his childhood.
Ville Jankeri graduated from the National Film and Television School (NFTS) with an MA in Directing Fiction. In 2007, he was chosen to make a short film for the Berlin Today Award competition – The Last Wash premiered at the Berlinale Film Festival in 2008. Sixpack (2011), his first feature film based on an acclaimed novel by Mikko Rimminen, has been successful with both critics and viewers. Gold Digger (2016), his second feature film, has had a successful run in theaters.
………………………..
P R O G R A M M E
Thursday, 7. 4.
20.00 Opening ceremony
AURORA, 106'
D: Miia Tervo
Friday, 8. 4.
18.00 ANY DAY NOW, 82'
D: Hamy Ramezan
20.00 DOGS DON'T WEAR PANTS, 105'
D: Jukka Pekka Valkeapää
Saturday, 9. 4.
18.00 LADIES OF STEEL, 92'
D: Pamela Tola
20.00 FOREST GIANT, 88'
D: Ville Jankeri
Sunday, 10. 4.
18.00 GAMES PEOPLE, 117'
D: Jenni Toivoniemi
20.00 TOVE, 116'
D: Zaida Bergroth
Monday, 11. 4.
20.00 BLIND MAN WHO DID NOT WANT TO SEE TITANIC, 82'
D: Teemu Nikki