HIDDEN PLACE BOJAN RADOJČIĆ
14.04.2022-19.05.2022, 12:00-20:00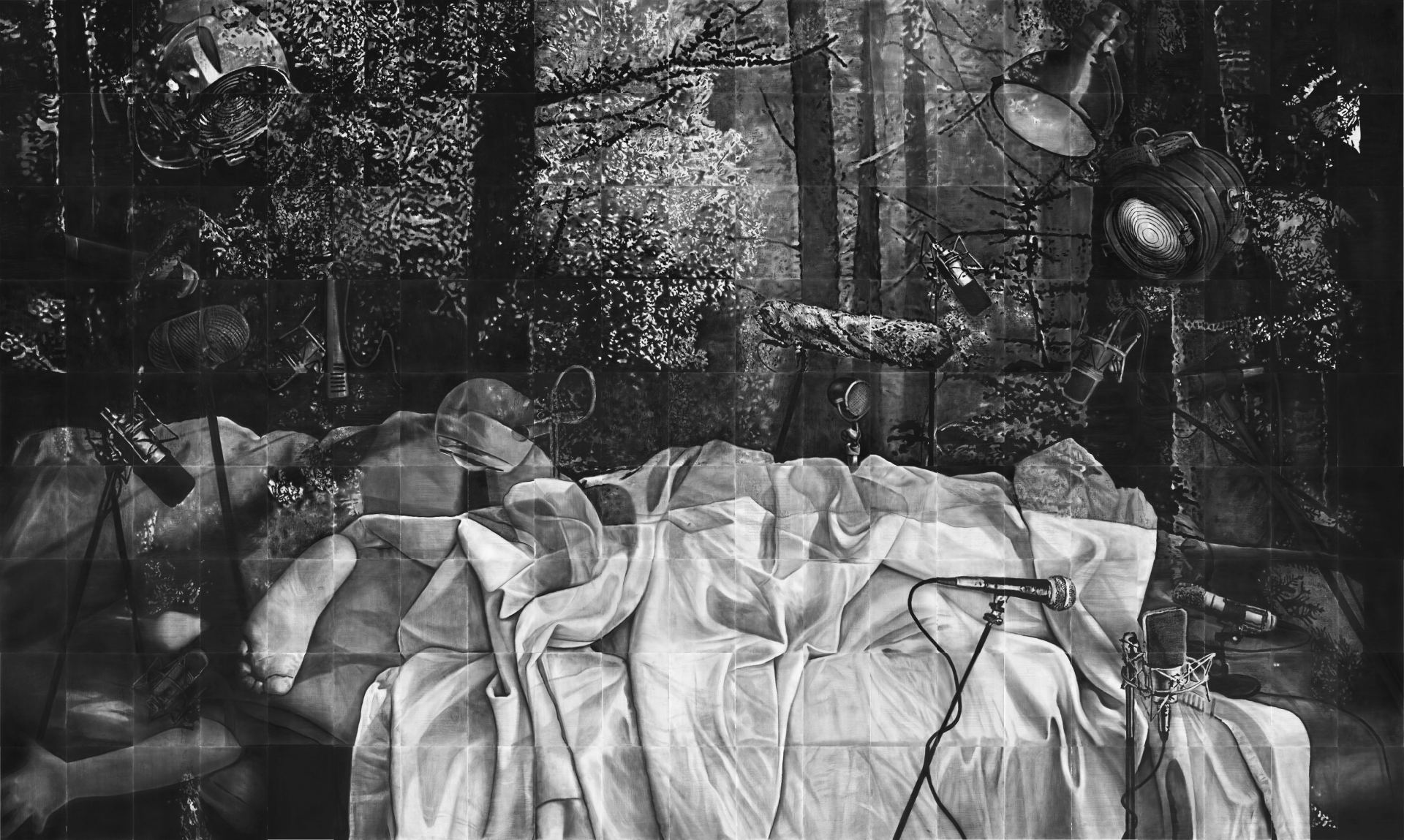 HIDDEN PLACE
BOJAN RADOJČIĆ
14.4 – 19.5.2022.
Text by Ljiljane Karadžić download here
…Dealing with the problem of surveillance and complete loss of privacy in a globalised society networked with hyper-information that "suffers" from virtual social-phagy,
the artist introduces elements into the Arcadian scene that serve as metaphors, mimicking them in a way, and giving them natural vitality – elements of a public, mass-transmitted spectacle. Microphones, cameras and reflectors are featured in the drawing, as magnificent as trees, with a strange organic quality, harmonised with the vegetation to such a degree that the eye of the observer does not protest at first, because one does not feel the visual and semantic split in the play… A video-sound installation, resembling a sort of a three-dimensional replica of the drawing, made of decorative plants, withthe space in between covered with crumpled gold foil, microphones and monitors, all placed in a large box, is set up onthe gallery floor. The cables protrude from the box and, just like vines they meander, thereby creating an impression of uncontrolled, unpredictable movement.
.. Unlike the drawing, which could pretend to be symbolically eternal, the installation sends a coded message that questions the global phenomenon of the loss of privacy in the reality of the here and now, given that events from the gallery itself are streamed through screens and microphones. The discreetly imposed and unavoidable participation inthe work creates both a sense of discomfort and excitement in the observer due to the unexpected identification of oneself in the monitor, tucked among the plants, broadcasting a recording from the gallery's video surveillance in real time. Cameras record every movement, every sound, and potentially store them permanently in digital archives.
Privacy based on the autonomy of our personality, i.e. the belief that we are the owners of our lives and that no one else can decide on our behalf when and how our privacy will become public, disperses as an illusion of an ideal image, which, in the mind of the observer, slowly begins to decompose…(Ljiljana Karadzic, from the catalogue text)
Bojan Radojčić was born in Šabac (Yugoslavia) in 1981. He graduated in painting at the Academy of Fine Arts in Belgrade in 2004. He has exhibited at numerous group and solo exhibitions in Serbia and Europe. Since 2011, he has been collaborating with the Danish gallery Pi in Copenhagen. He has won several awards in Serbia, and he was also afinalist for the MANGELOS award, granted to the best young artist from Serbia, as well as the "Vladimir Veličković" award. His works form part of numerous private collections in Austria, Denmark, Italy, Norway and Iceland, as well as the Museum of Contemporary Art of Vojvodina in Novi Sad, and the Gallery of Contemporary Art in Subotica. He has beena member of the Association of Fine Artists of Serbia – ULUS since 2009. He currently lives and works between Belgradeand Copenhagen.