Ljubica Sekulić (harp and viola) and Dragomir Bratić (piano)
03.10.2022., 21:00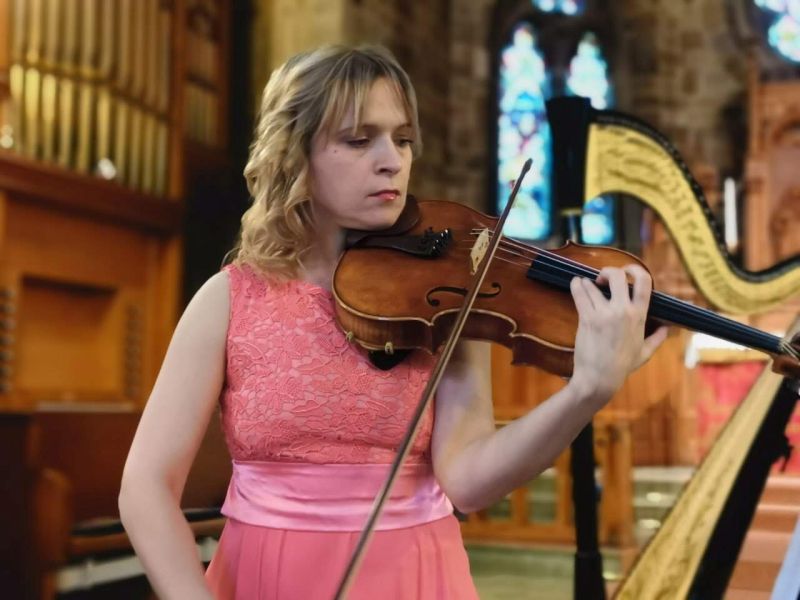 Program:
Vera Milanković
Muzička mapa Srbije for harp
Oj, đevojko, jagnje mlado (Bjelo polje)
U bašti zumbul cveta (Niš)
Nedo, Nedo, bela Nedo (Prizren)
Alphonse Hasselmans
Petite valse, Op.25
La Source, Op. 44
Vera Milanković
Nocturne for viola
Nino Rota
Sonata for viola and piano No. 1 in C major
Allegro scorrevole
Andante sostenuto
Allegro scorrevole
Intermezzo for piano and piano
Biographies:
Ljubica Sekulić (harp and viola) was born in Belgrade, Serbia in 1982. She earned her music diploma in Harp from the University of Belgrade Academy of Music and Fine Arts in 2006 in the class of Professor Ljiljana Nestorovski. During her studies she completed master classes taught by Jane Bouskove and Elisabeth Fontain Binosch. Currently, Ljubica is actively performing as a solo harpist. Her performances have inspired several solo and various chamber music pieces by composers such as Vera Milankovic, Dragana Jovanovic, Svetislav Bozic and Rei Munakata.
In 2007 Ljubica earned her Viola degree also at the Academy of Fine Arts and Music from the University of Belgrade in the class of Professor Dejan Mladjenović. After completing her studies in Belgrade, she began her master's degree in strings at the "Högskolan för scenoch Musik" in Gothenburg, Sweden in the class of Professor Bjorn Sjogren, Professor Hakon Olsson, and Nabuko Imai.
She has received awards and scholarships from the foundation of ''Anders Sandrews Stiftelse'' in 2006 and 2009, '' Kungliga Musikaliska'' 2007/2008, and Rotary International Student House in 2007. During her studies she participated in several competitions and won several awards; Republic of Serbia competition 1996 (2nd place), 1998 (1st place), and 2000 (1st place). Festival of Music Schools in Negotin, Serbia 1997 (1st place), The Petar Konjović International Competition 1998 (1st place), National Competition Yugoslavia (1st place), Belgrade Harp Competition 2004 (3rd place). Ljubica has performed as a soloist, and as a member of chamber music ensembles and orchestras in Serbia, Sweden, Crna Gora, Bosnia Hercegovina, Greece, Italy, Austria, Norway, Germany, and the USA. She also regularly performs with jazz and world music bands. Since 2003 she has been a member of the Serbian Association of Musical Artists. In 2012 she performed as a harp soloist with the Sarajevo Philharmonic at the ceremonial opening of the Festival Bascarsija Nights. In 2014 she was invited to perform an all evening harp solo concert at the Medoars Festival in Skoplje, Macedonia. Additionally, in 2014 and 2015 she seized every opportunity to hone her skills to organize concerts at the Pygmee theatre in Stockholm where she often performed with chamber music ensembles.
In May of 2014 she performed as a violist at the Erik Satie Festival in Paris and again in 2016 as a soloist and also in chamber music ensembles with the renowned soloists Miomira Vitas (Soprano) and Konstantin Bogino (Pianist).
After several years the opportunity has arisen to express herself musically as a soloist with the Stockholm Academic Orchestra. In October of the same year she performed the Zelter concert for viola with the chamber music orchestra Arte in Trusa, Sweden. For the fourth consecutive year she performed concerts at the Women's Festival in Stockholm where she wholeheartedly did her best to promote Serbian Women composers.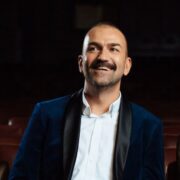 Dragomir Bratić started playing piano at the age of fourteen. He graduated from the Music School "Josip Slavenski" in Belgrade in the class of prof. Zlata Poparić with honours. He graduated piano studies and finished his master's degree at the Department of Chamber Music (piano duo) at the Faculty of Music in Belgrade in the class of  Ninoslav Zivkovic and Zorica Ćetković, respectively. He also attended master classes of Arbo Valdma, Igor Lasko, Pavel Nersesjan, Natalia Troull, Daniel Rivera. For the time being he works as a piano teacher at the Music School "Davorin Jenko" in Belgrade.
Dragomir is an active member of the Association of Music Artists of Serbia since 2005. From 2011 till 2020 he was the director of the State competition of students of music and ballet schools of Serbia under the patronage of the Association of Music and Ballet Schools of Serbia. Also, he holds a position at the Organization Board of the International Piano Competition for Young Pianists Davorin Jenko since 2016.
Apart from an active pianist career (piano duo with Matija Godjevac) Dragomir Bratić is a devoted teacher and has a wide interest in pedagogical work. He is the author of textbooks entitled Music Culture for elementary schools. He took part in the debate – as author and presenter – at the 17th International Competition for Young Pianists in Šabac, "Principles of assessment in music competitions. Subjective and objective assessment?" which was accredited by the Institute for Advancement of Education.
At the Piano Competition PIANO / FVG held in May 2014 in Sacile, Italy – sponsored by the Central European Initiative Forum and Alink, Argerich Foundation – Dragomir held a lecture on the Serbian piano school, and the strengths and weaknesses of competitions.
Dragomir Bratić was co-author (with Professor Dragoljub Katunac, Novi Sad Academy of Arts and Alyosha Jurinić, Croatian pianist) at the Belgrade conference "Meeting with the artist: Frederic Chopin International Competition – Then and Now" (Chopin Fest 2016).
Dragomir is a constant jury member in nearly all national competitions, and is frequently ivited to competitions in Slovenia, Italy, Czech Republic, Bosnia and Herzegovina, Macedonia, Germany, Hungary, Russia, Austria, France, Poland, and Georgia.
Based on the originality of approach to working with children he is one of the most talented and most successful piano teachers in his country. His students have won over 720 first and special awards (laureate) in Serbia and abroad, e.g. in Italy, Slovenia, France, Bosnia and Herzegovina, Romania, Sweden, Czech Republic, Austria, Hungary, USA, Rusia, Georgia… He has received numerous awards for his educational work not only in Europe but also in the USA – Carnegie Hall Award for the most successful pedagogue. Dragomir's students are recognised performers in many prestigious concert halls of Serbia and abroad, like the Carnegie Hall in New York or the Musikverein in Vienna.