19th International Festival "Ars vivendi clavicembalum" – SOFIJA GRGUR i JOVANA TOPALOV
09.11.2022., 19:00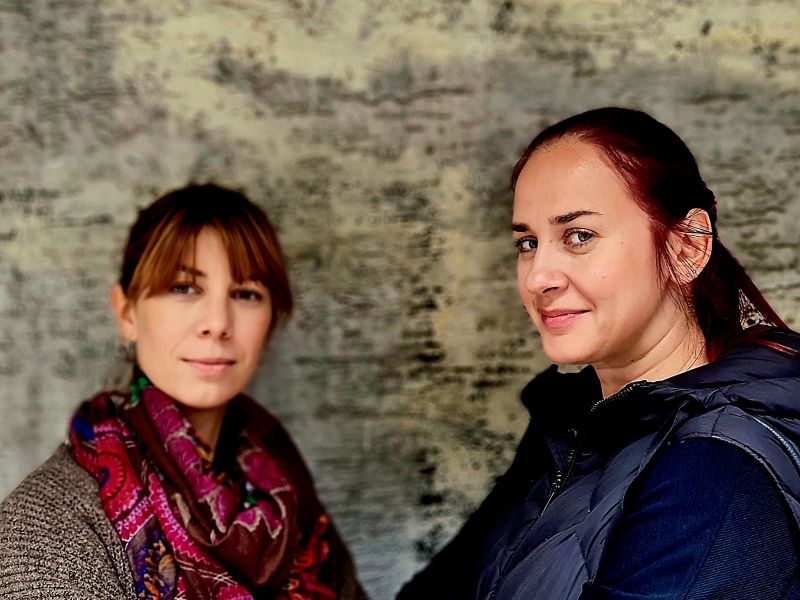 "Dialogue of the keyboards" is the idea that found its expression in the harpsichord duo established by Sofija Grgur and Jovana Topalov. The two met during their student days and ever since have enjoyed a fruitful collaboration, working and performing together as often as possible. Concert is organized in cooperation with the Association of Music Artist of Serbia.
Program:
Sofija Grgur / Jovana Topalov
Concertino on theme Gebt mir meinen Jesum wieder! (J. S. Bach: St. Matthew Passion, BWV 244, 2nd part, No. 42)
Jean-Philippe Rameau (1683–1764)
Concerto No. 5 from Pièces de clavecin en concerts (arr. Pierre Gouin)
Fugue La Foqueray
La Coupis
La Marais
Johann Ludwig Krebs (1713–1780)
Concerte in A minor for 2 harpsichords
Allegro – Affettuoso – Allegro
Peter Planyavsky (1947)
Pieces for 2 harpsichords
Valse Inegale
Berceuse
Caprice Fugue
Dick Koomans (1957)
Toccata for 2 harpsichords
Biographies:
Jovana Topalov is a harpsichordist from Belgrade, Serbia. She graduated piano and harpsichord at the Faculty of Music in Belgrade, after which she continued her education at the University of Illinois at Urbana-Champaign, USA where she graduated with a master degree in early music and harpsichord. In October 2018, she successfuly completed her Doctorate Academic studies at the Faculty of Music in Belgrade by defending her dissertation titled The Narrative potential of harpsichord: The elements of improvisation and musical rethoric in the interpretation of programmatic allemands and lamentations by Johann Jacob Froberger.
Jovana participated in numerous Baroque masterclasses, workshops and festivals which had an important role in her professional development, and enabled her to collaborate with prominent artists in the field of early music such as Jory Vinikour, Siegbert Rampe, Davitt Moroney, Blandine Rannou, Frédérick Haas, Ruben Dubrovski, Aline Zyelberajch and others. For a number of years, she was a scholarship holder of the Austrian Baroque Academy, which granted her the Special Award for Excellence in 2011.
Jovana is actively performing as a soloist, as well as a basso continuo accompanist (MCCG, SORTS, Belgrade SAXperience…). From 2012 she is a member of the musical ensemble Belgrade Baroque, which focuses on historically informed performance practice of 17 th and 18th century music, playing on replicas of period instruments. Jovana is the president and one of the founders of the Belgrade Baroque assosciation whose goal is the promotion of higher values of musical and performing arts, with a special focus on the music of  17th and 18th centuries. Since May 2022 she is teaching harpsichord and ensemble playing at Early Music department in MS Josip Slavenski, Belgrade.
Sofija Grgur is a well-recognized Serbian organist and harpsichord player. She pursues a versatile career as a soloist, conductor, accompanist (basso continuo), improvisor and specialist in early music performance practice. She obtained her bachelor's degree at the Belgrade Music Academy (multiinstrumental department, organ) and continued her studies at the Hochschule für Musik Würzburg, where she obtained her concert diploma for solo organ, a bachelor's and a master's degree in church music, as well as a bachelor's and a master's degree for harpsichord and other historical keyboard instruments, such as the fortepiano and clavichord.
Her post-graduate studies brought her to the renowned "Schola Cantorum Basiliensis" in Basel, Switzerland, where her focus on historical improvisation gave her in-depth knowledge of the genre and form where she feels most confident and at home.
Sofija Grgur was awarded scholarships from the Serbian Foundation for young talents "Dositeja", as well as from DAAD and other international foundations. After winning awards at several competitions, both as a soloist and as a chamber musician, she now works regularly with internationally acclaimed ensembles as a soloist, musical director and conductor. She is also a founding member of the Ensemble Interrogatio, a group specializing in the performance of lesser-known works of early music, while also offering programs combining early music with contemporary works.
Making music with other keyboard players has been an important part of Sofija's musical upbringing. This kind of "dialogue of the keyboards" found its natural expression in the creation of the harpsichord duo Sofija established with her long-time friend Jovana Topalov. The two met during their student days and ever since have enjoyed a fruitful collaboration, working and performing together as often as possible.
Sofija Grgur lives and works as church music director and organist in Zürich.