IRANIAN DOCUMENTARY FILM FESTIVAL / 25.12.2022
25.12.2022., 18:00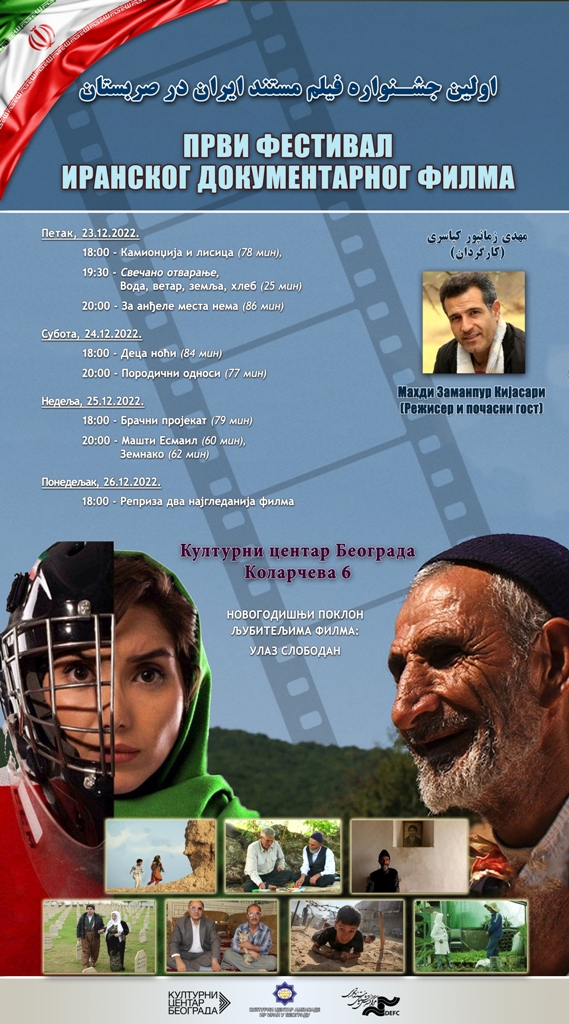 IRANIAN DOCUMENTARY FILM FESTIVAL
The Cultural Centre of Belgrade
23. – 25. DECEMBER 2022.
---
Free entrance
SUNDAY, DECEMBER 25

⇒   18.00
THE MARRIAGE PROJECT
Iran, 2020, 79'
Director: Atieh Attarzadeh Firozabad, Hesam Eslami
The head of a psychiatric clinic in Tehran would like to secure the possibility of marriage for his patients to satisfy their emotional and sexual needs. A committee is now supposed to bring the first couples together. But who loves whom and are the relationships, suggested by the doctors, steering in the right direction? What do their families think? And what about the patients who were not selected? The Marriage Project engages with much empathy with a taboo topic in many societies. It raises questions about gender politics in Iran, dealing with people with disabilities, psychiatric ethics, and searching for love.
⇒   20:00
MASHTI ESMAEIL
Iran, 2014, 60'
Director: Mahdi Zamanpour Kiasari
Mashti Esmaeil spends most of his time in his farm where he cultivates rice, located within a three-hour walking distance from his house. With an uplifting degree of independence, despite his blindness, he proves in this affectionate portrait to be a serene and wise man with an incredible sense of humor. A gracious tribute to a certain predisposition to happiness.
ZEMNAKO
Iran, 2016, 70'
Director: Mehdi Ghorbanpour
Zemnako is a young man who finds out that after the chemical bombardment of Halabja of Iraq in 1988 by Saddam Hussein, as a 40-day-old baby he was separated from his mother and has been brought to Iran and adopted by an Iranian woman. As a single mother, she couldn't get an Iranian ID for him. When his foster mother passes away, he decides to go to Kurdistan of Iraq to find his relatives.