NEW YEAR'S PROGRAM OF THE MOST WATCHED FILMS IN THE MOVIE THEATRE OF THE CULTURAL CENTER OF BELGRADE / 01. – 02.01.2023.
01.01.2023-02.01.2023, 18:00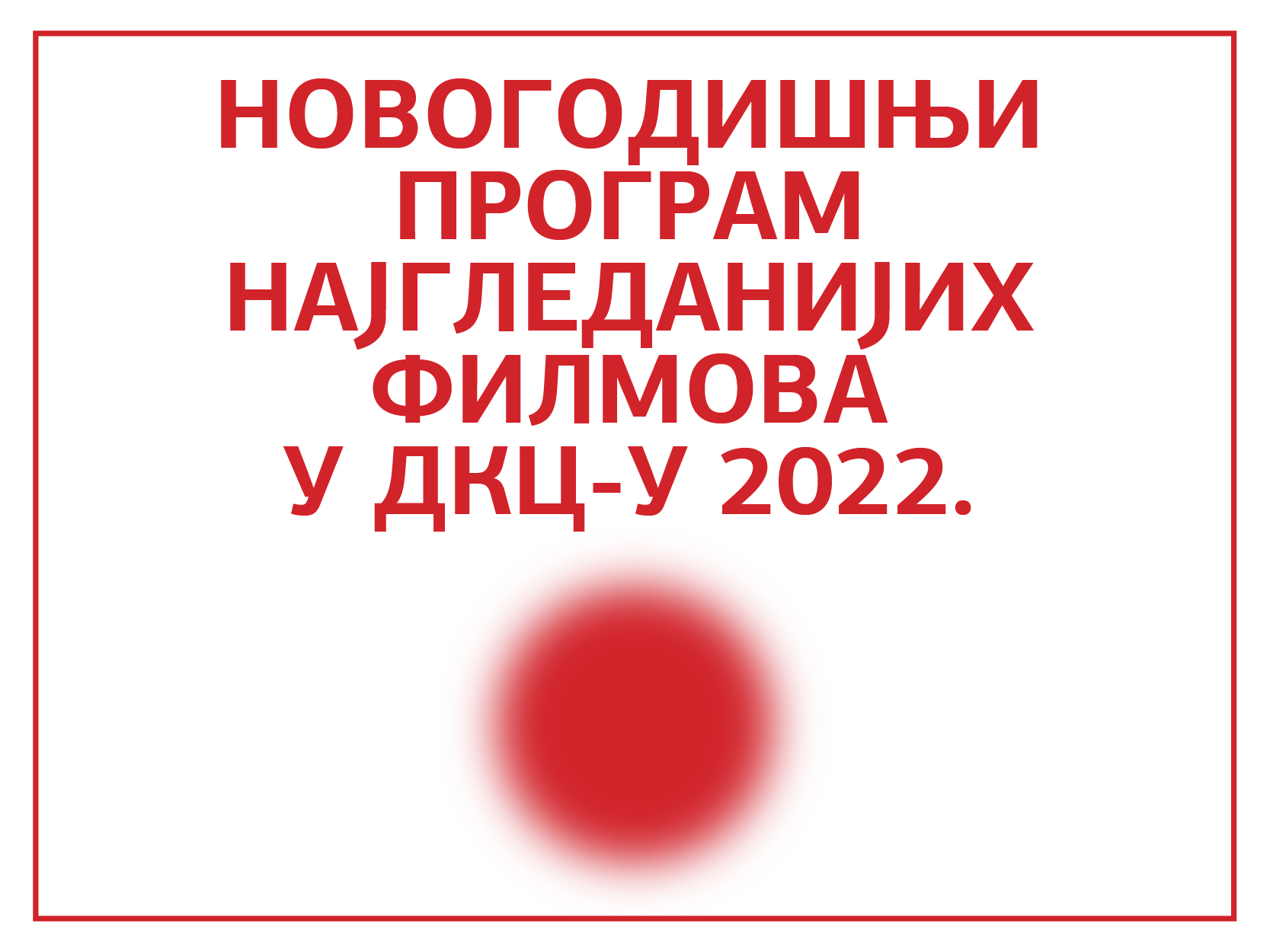 NEW YEAR'S PROGRAM OF THE MOST WATCHED FILMS IN THE MOVIE THEATRE OF THE CULTURAL CENTER OF BELGRADE
The Cultural Centre of Belgrade Movie Theatre
1st – 10th January 2023
---
Ticket fee 300 dinars
January 1st and 2nd
⇒  18:00
AS FAR AS I CAN WALK / STRAHINJA BANOVIĆ
Serbia, France, Luxembourg, Bulgaria, Lithuania, 2021 / 92'
Director: Stefan Arsenijević
Cast: Ibrahim Koma, Nancy Mensah-Offei, Maxim Khalil, Rami Farah, Nebojša Dugalić…
Strahinya and his wife, Ababuo, both 28, left Ghana at the beginning of the migrant crisis. They managed to reach Germany but were deported back to Belgrade. Serbia may not be Germany, but Strahinya does his best to start a new life. He works hard to secure asylum, trying out as a football player for a local club and working as a volunteer for the Red Cross. The process, however, is lengthy and Ababuo, a passionate woman aspiring to become an actress in London, feels unfulfilled in their life. One night, a new group of Syrian refugees arrive, on their way to Western Europe. One of them is Ali, a charismatic left-wing activist. Ababuo initially mocks him, but, the very next day, leaves Serbia with him, providing no explanation. Strahinya sets off along the Balkan migrant route for completely different reasons than anyone else: for love.
A re-imagining of the medieval Serbian epic poem Banovich Strahinya in which contemporary African migrants take the place of Serbian national heroes. Urgent and timeless at the same time, this adaptation raises questions about identity, tradition, race and love.
Festivals:
Karlovy Vary, Manaki Brothers International Cinematographers Film Festival Bitola, Haifa, Pingyao, CinEast Film Festival Luxembourg, Montpellier International Festival of Mediterranean Film CineMed, Kinenova Skopje, Thessaloniki, Seville European Film Festival, Zagreb, Cairo, Trieste…
Awards:
Karlovy Vary International Film Festival: Grand Prix Crystal Globe, Best Actor (Ibrahim Koma), Special Mention by the Jury for Cinematographer (Jelena Stanković), The Ecumenical Jury Award, Europa Cinemas Label Award; Kinenova Skopje: Best Director…
⇒  20.00
TRIANGLE OF SADNESS
Sweden, France, UK, Germany, Turkey, Greece, 2022, 150'
Director: Ruben Östlund
Cast: Thobias Thorwid, Woody Harrelson, Harris Dickinson, Charlbi Dean…
Models Carl and Yaya are navigating the world of fashion while exploring the boundaries of their relationship. The couple are invited for a luxury cruise with a rogues' gallery of super-rich passengers, a Russian oligarch, British arms dealers and an idiosyncratic, alcoholic, Marx-quoting captain. At first, all appears Instagrammable. But a storm is brewing, and heavy seasickness hits the passengers during the seven-course captain's dinner. The cruise ends catastrophically. Carl and Yaya find themselves marooned on a desert island with a group of billionaires and one of the ship's cleaners. Hierarchy is suddenly flipped upside down, as the housekeeper is the the only one who knows how to fish.
* Festival/Award: Cannes Film Festival 2022 – Palme d'Or