Hyeonju Cho, piano and Andrey Mikryukov, violoncello
13.02.2023., 21:00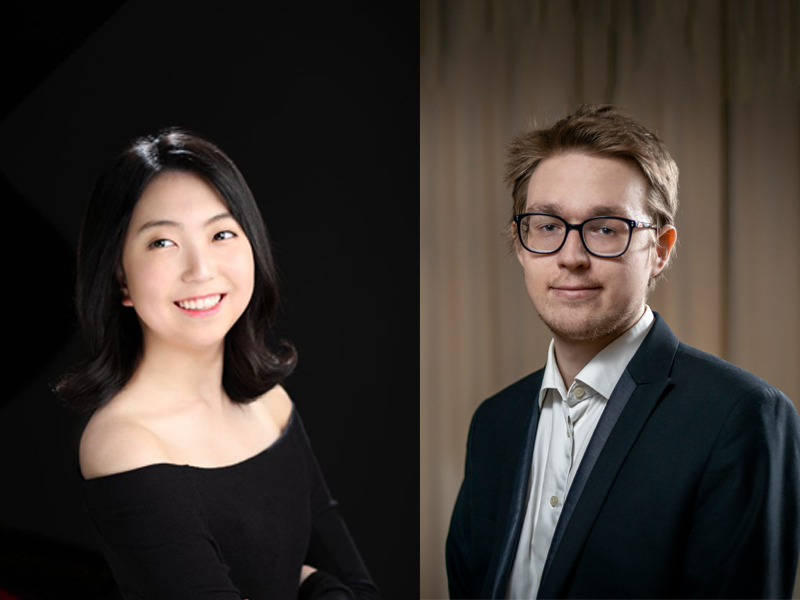 Young talented musicians, students from Dresden will perform for the first time in Belgrade and play pieces for piano and cello and piano by Beethoven, Haydn, Chopin, Debussy and Liszt.
Program:
Ludwig van Beethoven
1st Movement from Sonata for cello & piano No. 4 in C Major, Op. 102/1
Andante – Allegro vivace
Joseph Haydn
2nd Movement from Cello Concerto No. 2 in D Major, Hob. 7b/2
Adagio
Pyotr Ilyich Tchaikovsky
Andante Cantabile from String Quartet No. 1, Op.11
Ludwig van Beethoven
1st Movement from Piano Sonata No.18 in E flat Major, Op.31/3
Allegro
Frederic Chopin
Etude in C Major, Op.10/1
Polonaise in A flat Major, Op.53
Claude Debussy
L'isle joyeuse, L.106
Franz Liszt
Transcendental Etude No.10 in F minor
Biographies:
Andrey Mikryukov was born in Perm (Russia). At the age of 5 he received his first music lessons and in 2011 he made his debut with the Perm Opera and Ballet Orchestra. In 2019 he graduated from the Central Music School Tchaikovsky in Moscow and applied to the Hochschule für Musik C.M. von Weber in Dresden in the class of Emil Rovner. Andrey is a laureate of national and international competitions. He is awarded the scholarship of Ad Infinitum Foundation.
Hyeonju Cho (Seoul, South Korea, 2002) graduated piano at the Kywon Art School. She attended Seoul City Art College. She was a participant of the Yamaha music festival in Japan and laureate of numerous competitions such as Young pianist competition (Japan), International Chopin piano competition in Asia (Japan), Universal harmony concourse (Korea), Yeum classic music award competition (Korea) and Laslo spezzaferri international music online competition. Since 2019, he has been studying at the Hochschule für Musik C.M. von Weber Dresden, first in the class of Winfred Apel, and then in the class of Karl-Heinz Simon. During her studies, she gave concerts at the Academy, in the Church of Our Lady in Dresden and in the Steingraber House in Bayreuth.