Srđan Sretenović, cello and Neda Hofman-Sretenović, piano
03.04.2023., 21:00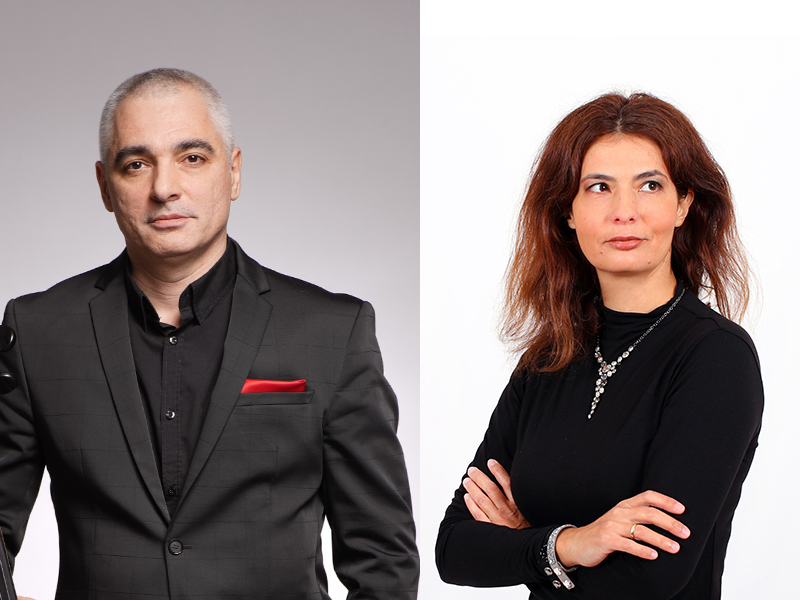 Program:
Luigi Boccherini
Sonata in G major for cello and piano
Largo
Alla militare
Minuetto
Richard Strauss
Sonata for cello and piano in F major, Op. 6
Allegro con brio
Andante ma non troppo
Allegro vivo
Astor Piazzolla
Le Grand Tango for cello and piano
Biographies:
Neda Hofman-Sretenović (Belgrade, 1977) studied piano with Prof. Arbo Valdma, DHC, at the Faculty of Music in Belgrade, where she graduated in 1999, and at the Hochschule für Musik in Cologne, where she graduated in 2002 as a DAAD (Deutscher Akademischer Austauschdienst) fellow. She earned her master's degree in 2004 at the Academy of Arts in Novi Sad, under Prof. Rita Kinka. In 2015, she completed a degree in chamber music at the Faculty of Music in Belgrade, where she was supervised by Prof. Zorica Ćetković; the title of her thesis was Problemi interpretacije i tehničke realizacije elektroakustičkih dela [Issues in the Interpretation and Technical Rendering of Electro-acoustic Works].
Hofman-Sretenović focuses on contemporary music performance. In 2011, she founded the Construction Site Contemporary Music Ensemble, with whom she has performed in over 30 concerts in Serbia and abroad (Lithuania, Montenegro, Croatia, Israel). In 2017, Hofman-Sretenović and the Construction Site Ensemble initiated the founding of ReConstruction, a new festival of contemporary music.
As a soloist and chamber musician, she has performed in Germany, France, Italy, Greece, North Macedonia, South Africa, Namibia, and Botswana.
Hofman-Sretenović has been a regular contributor at Belgrade's International Review of Composers festival. She has premiered newly composed pieces of a number of major contemporary composers as well as representatives of the youngest composers' generation.  Also, she has performed at the festivals Kompozitori u prvom licu [Composers in First Person Singular], Belgrade, 2004), KOMA, and Lasciar vibrare.
She has performed with the Symphony Orchestra of the Serbian Broadcasting Corporation, St. George Strings chamber orchestra, Dušan Skovran String Orchestra, Camerata Academica string orchestra, as well as Collegium Musicum women's academic choir. She has participated in recordings with Radio Belgrade Symphony Orchestra, as well as in recordings made for the CD production of the Music Information Centre, the Construction Site Ensemble's production, and the production of the Serbian Musicological Society. She has won the "Aleksandar Pavlović" award for the promotion of Serbian music in the country and abroad by the Composers' Association of Serbia (2017, 2020).
Hofman-Sretenović teaches as a senior arts fellow at the String Instruments Department of the Faculty of Music in Belgrade.
Srđan Sretenović was born in Bor (Serbia) in 1976. He studied cello at the School for Music Talents in Ćuprija, in the class of Prof. Relja Ćetković and continued his education at the Faculty of Music in Belgrade, in the class of Prof. Sandra Belić, where he graduated in 2000, received a master's degree in 2003 and a PhD in Art in 2011.
He has participated in many master classes, such as those held by Prof. A. Fedorchenko (Central Music School, Moscow) and Prof. David Takeno (Guildhall School for Drama and Music, London).
He has won a great number of first prizes in national and international competitions, for example the International Competition "Petar Konjović" in Belgrade. He was a finalist of the "Jeunesses Musicales" International Competition in 2005 in Belgrade.
Srđan is a solo cellist of the chamber orchestra St. George Strings (Belgrade), Montenegrin Symphony Orchestra (Podgorica) and Makris Symphony Orchestra (Belgrade). He is a member of The Construction Site Contemporary Music Ensemble from Belgrade. Srđan performs in duo with the pianist Neda Hofman. Their concerts are viewed as "excellent, precise playing" and their performance as a proof of "their reputation as virtuosic artist of an extraordinary technique" (St. Heise, Allgemeine Zeitung); "…they displayed a masterful technique and sound coloration as well as a wide range of emotions" (O. Đoković, Frankfurt News). Their repertoire consists of both standard, classical pieces and those of Serbian and other contemporary composers.
As an outstanding representative of Serbian cellists, he has participated in the "International Review of Composers" in Belgrade, in a festival "Musica Viva", and in the international festival "Cello Fest" which took place from 2003 to 2011 in Belgrade.
Srđan Sretenović works as an associate violoncello professor at the String Instruments Department of the Faculty of Music in Belgrade