23rd International Festival "The Days of Organ – Dies organorum": DOMINIK SUSTECK
27.06.2023., 20:00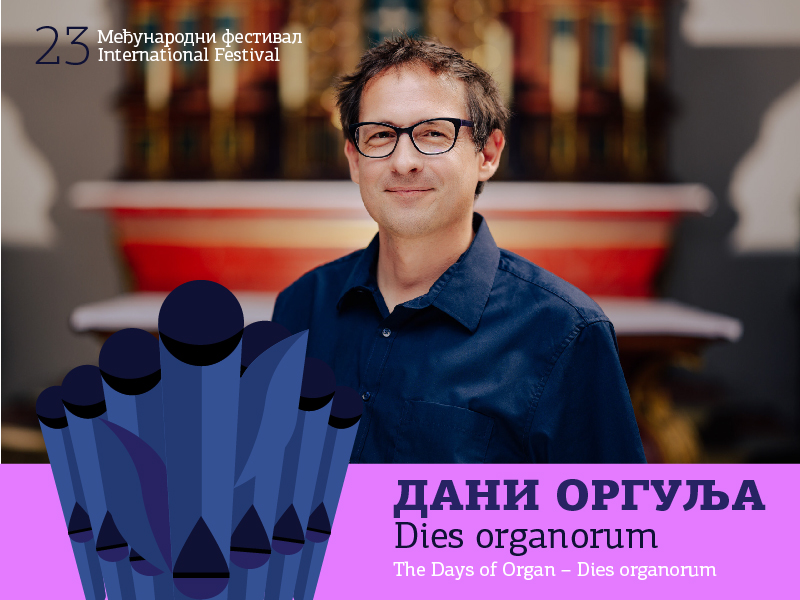 As a composer and organist Dominik Susteck has been awarded a number of prizes. His improvisation concerts at St. Peter's Art Station in Cologne, have attracted particular notice. He held a lecturer's position for music theory and organ at the Bishop's Sacred Music School in Essen, which he used for the dissemination and inclusion of contemporary music in church activities. Dominik Susteck is the director of the international festival "orgel-mixturen" and has been a guest at festivals for contemporary organ music in Berlin and Frankfurt. His concert in Belgrade is supported by the Goethe-Institut in Belgrade
Program:
Dominik Susteck (1977)
Orgellabyrinth
I Spiegelkabinett
Andreja Andrić (1973)
Chorale Book I
Dominik Susteck
Orgellabyrinth
II Der Rufer
Andreja Andrić
Chorale Book II
Dominik Susteck
Orgellabyrinth
III Runner
Andreja Andrić
Chorale Book III
John Patrick Thomas (1941)
Elegy No. 4
Dominik Susteck
Orgellabyrinth
IV Schwarzes Loch
John Patrick Thomas
Machpela
Dominik Susteck
Orgellabyrinth
V Unendlichkeit
Biography:
Dominik Susteck (born in Bochum, Germany in 1977) studied from 1998 to 2005 at the Folkwang Hochschule in Essen, the Hochschule for Music and Dance in Cologne, and the music Hochschule in Saarbrücken with an emphasis on sacred music, music theory, and composition; he completed his concert examination in organ. At the Study Seminar in Wuppertal, he completed the second State Examination in Music. During his church music studies, he held a lecturer's position for music theory and organ at the Bishop's Sacred Music School in Essen, which he used for the dissemination and inclusion of contemporary music in church activities. He has also served as a lecturer at the Folkwang University in Essen, the Robert Schumann Hochschule in Düsseldorf, and at the Franz Liszt Hochschule in Weimar; he has been a guest lecturer at the Hochschule for Music and Dance in Cologne, the Hochschule for Sacred Music in Dresden, as well with the Archdiocese of Cologne, the Diocese of Essen, and the Diocese of Mainz. Of particular importance to him is work with young people, with whom he has worked on projects dedicated to compositions by György Ligeti, Kurt Schwitters, John Cage, and Terry Riley, among others.
From 2007 till 2021 he has been the successor to Peter Bares as composer and organist at St. Peter's Art Station in Cologne, where his improvisation concerts have attracted particular notice. Susteck has played numerous premiere performances of works by composers including Peter Bares, Erik Janson, Johannes S. Sistermanns, Stefan Froleyks, and Peter Köszeghy. His concerts have been broadcast by various German radio networks (among them Deutschlandfunk, WDR [West German Radio], and Saarland Radio). Dominik Susteck is the director of the international festival "orgel-mixturen" and has been a guest at festivals for contemporary organ music in Berlin and Frankfurt. As a composer and organist, he has been awarded a number of prizes, among them the first prize in the Aeolian Trio Composition Competition in 2004, the Klaus Martin Ziegler Prize in 2008 in Kassel, and the first prize in composition in the "organ plus" competition at the music Hochschule in Mainz in 2010, 2012 price contemporary sacred music Schwäbisch Gmünd, german record critics' award, 2013 german music competition in composition.
Biographies of the composers:
Andreja Andrić (born 1973) is a Serbian composer and programmer, living in Aarhus in Denmark. He explores the intersections of mathematical processes, intuition and chance and uses computer programming as key means of artistic expression. With a primary interest in composition and performance for his networked laptop/smartphone ensemble, he is also active as composer of vocal and instrumental music and creator of video and multimedia art. His work has been performed on festivals such as ICMC (International Computer Music Conference) 2022 in Limerick, Ireland, World Music Days 2019 in Tallinn, Estonia, and Festival Futura in Crest, France (2018). Finalist of the Franco Evangelisti International Composer Competition in Rome 2021, First Prize winner of SONOM festival, Monterey, Mexico 2017 and Second Prize winner of the same festival in 2014. Holds a PhD in Music Informatics from the State University of Milan, Italy.
John Patrick Thomas (born in Denver, Colorado in 1941) began his music studies as a member of the American Boychoir in Princeton, New Jersey. At the age of 16, he became a composition student of Darius Milhaud and Charles Jones at the Aspen Music School in Colorado and later studied with Andrew Imbrie and Seymour Shifrin at the University of California at Berkeley. In 1971, he began a concert and opera career as a countertenor with a special interest in New Music, which brought him into contact with composers such as David Del Tredici, Michael Finnissy, Lukas Foss, Mauricio Kagel, Elisabeth Lutyens, and Krysztof Penderecki. He was also a founding member of The Five Centuries Ensemble, which pioneered the juxtaposition of early music and contemporary music in concert programs. Thomas has taught at the State University of New York in Buffalo, the Folkwang University of the Arts in Essen, the Stage School in Hamburg, and the Schule für Schauspiel Hamburg. For several years, he was a vocal coach for the Hamburg production of Cats. He currently divides his time between private voice teaching, translation projects, and composing.