23rd International Festival "The Days of Organ – Dies organorum": ZOLTÁN BORBÉLY
30.06.2023., 20:00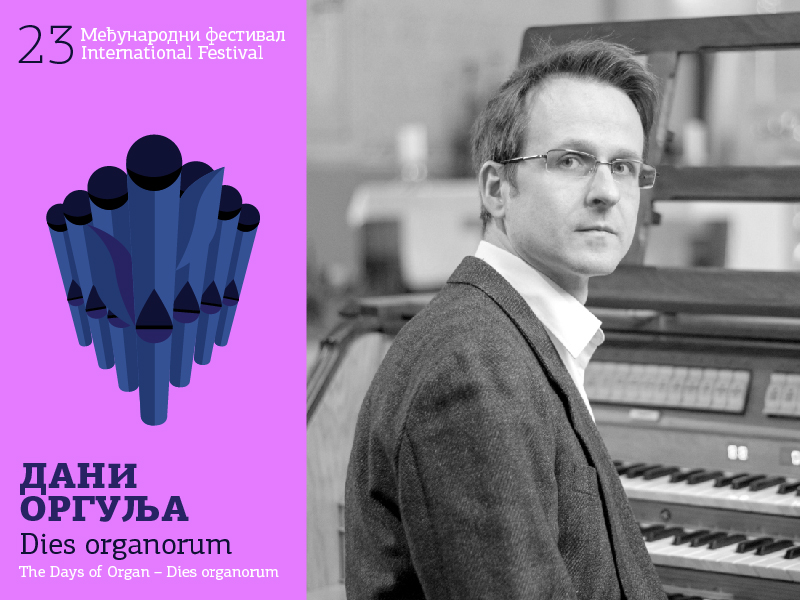 Organist Zoltan Borbelj, professor at the Academy of Arts in Novi Sad, invited colleagues composers from the Academy to compose a piece that will be performed at the Festival The Days of Organ. The invitation was answered by Marko Dulić, Stanislava Gajić, Tamara Knežević, Svetozar Saša Kovačević and Zoran Stajić. All compositions will be premiered at this concert Works of the Contemporary Composers for Organ. We realize the concert with the support of Sokoj.
Program:
Marko Dulić (1991)
Juggernaut Ritual
Stanislava Gajić (1980)
Fantasy and Fugue for organ
Tamara Knežević (1993)
Soldat na snegu
Svetozar Saša Kovačević (1950–2022)
Oj jesenske duge noći – Fuga in D a 3 voci
Zoran Stajić (1973)
Suite pour Zoltán
Biography:
Zoltán Borbély (1977) began his musical education in Senta with Zoltán Szokolai, in the accordion section, coming into contact with the organ during high school. He was Bertalan Hock's student at the Solti György music school in Budapest. He graduated from the Academy of Arts in Novi Sad, with Andrija Galun, and from the University of Arts in Graz, with Gunther Rost. At the Johann Joseph Fux Conservatory in Graz, he studied harpsichord and thoroughbass with Konstanze Rieckh. He has participated in numerous master classes in Austria, Germany and France. Since 1993, he has been a liturgical organist at the Name of Mary Church in Novi Sad and the Franciscan Church in Graz, to name a few. Since 2008, Borbély has been professor of organ at the Academy of Arts in Novi Sad. Since 2011, he has been the president of the Cor Jesu Foundation in Senta, the artistic director of the festival of church music in Senta and the coordinator of the technical improvement project for the organ at The Heart of Jesus Church in Senta. He has performed in eight European countries and North America. His repertoire includes music genres ranging from early Baroque to contemporary music. He enjoys performing compositions by Maurice Duruflé, the French late Romantics and contemporary composers. As a soloist and orchestra musician he has a long-standing collaboration with the Szeged Symphonic Orchestra, as well as the Choir and Orchestra of the Radio Television of Serbia.