Performance I love you • Snežana Golubović
22.06.2023-23.06.2023, 12:00-20:00
Thursday, June 22 & Friday, June 23
6 p.m. Belgrade Cultural Center, Knez Mihailova Str. 6
Performance I love you
Snežana Golubović
3rd edition of the festival (June 20-24, 2023, Belgrade) is inspired by Martin Niemoller's poem "First they came…" hoping to encourage and empower citizens to react against injustice, to take an active role inciting positive change in their communities, as well as to connect artists and human rights activists with each other, and with the wider community. Subtopic is Standing up for another is a fight for ourselves emphasizing compassion, bringing humanity back to the forefront before personal, selfish needs, glorified in our times of radical individuality.
The festival brings together artists and activists that work both regionally and internationally, who galvanize communities and reconcile differences, inspiring citizens to action. The program includes theatre productions, workshops, installations, concerts, talks, films, as well as creation of an original mural. Artists and activists are coming from Argentina, Armenia, Australia, Brazil, Denmark, Germany, Holland, Kosovo, Norway, Italy, Serbia, and the USA.
In I LOVE YOU performance
I say:
I LOVE YOU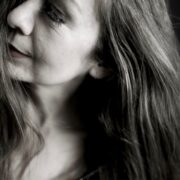 Snežana Golubović was born in Belgrade in the year The Rolling Stones set the world on fire with (I Can't Get No) Satisfaction. She has lived and worked in Germany for more than half of her life. She performs and exhibits her works all over the world: at the Van Gogh Museum in Amsterdam, at the theater festival in Avignon, at the Biennale in Venice, as well as at numerous exhibitions and performance festivals in Europe, Asia, North and South America. In 2013, she co-founded the performance trio TRaG (Trojan, Reiser and Golubović). Golubović is a professor at the Frankfurt University of Applied Sciences. On her birthday in 1991, Nirvana released the album Nevermind.