Ensemble "l'Asnée"
16.07.2023., 20:00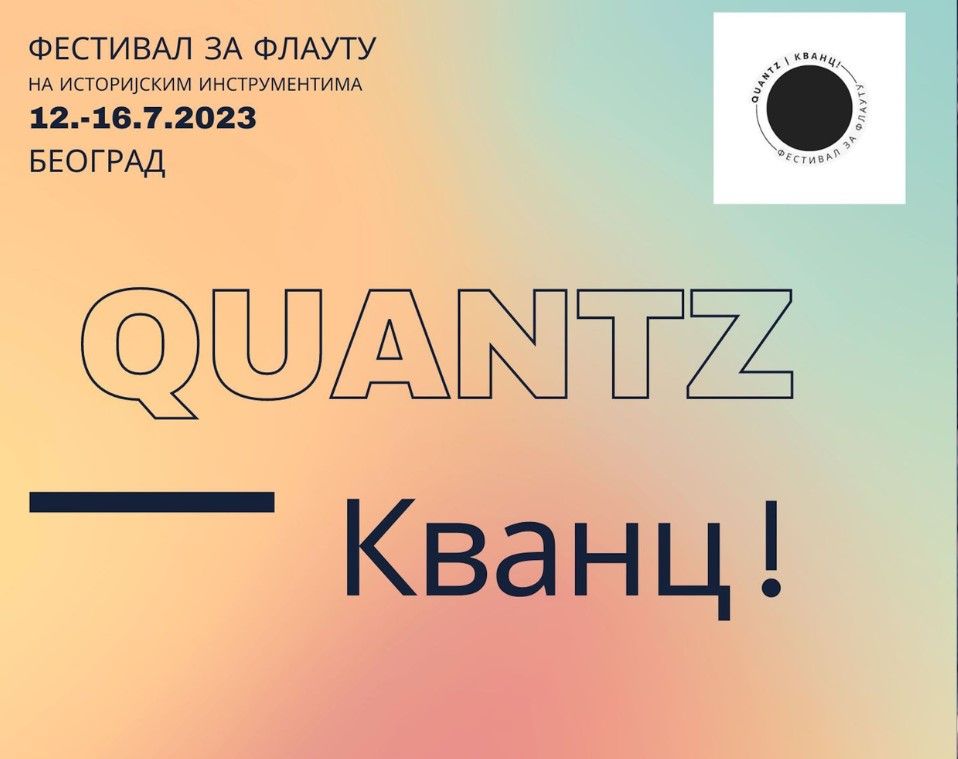 On July 12, 2023, we will celebrate the 250th anniversary of the death of Johann Joachim Quantz (1697–1773). Born in Scheden in central Germany and trained on a wide variety of instruments by what were called Stadtpfeifers, he became a member of the Kurfürstlich-Sächsische und Königlich-Polnische Kapelle in Dresden in 1728. In 1741, King Frederick II brought him to the Prussian court in Berlin/Potsdam. Every day, Quantz taught Friedrich how to play the flute, composed numerous Flute concertos and chamber music pieces, built instruments and wrote the textbook "Anweisung die Flöte traversiere zu spielen" – which has always been one of the main sources for historically informed performance practice.
From July 12th to 16th, festival Quantz! will be held in Belgrade. The program includes concerts, lectures and workshops at various locations in the city. Artistic and organizational direction: Antje Becker and Karolina Bäter.
Final Concert of the Festival:
Solo Sonatas and Trio Sonatas for Flute and Basso continuo by Johann Joachim Quantz (1697-1773)
Ensemble l'Asnée – Antje Becker and Karolina Bäter – Baroque Flute, Oliver Garde – Harpsichord
Program:
Johann Joachim Quantz
Sonata for flute and continuo in G major, QV 1:109
Sonata for 2 flute and continuo in E minor, QV 2:21
Sonata for flute and continuo in B minor, QV 1:168
Sonata for 2 flute and continuo in G major, QV 2:Anh 28
Biographies:
Karolina Bäter is a renowned flutist in contemporary and early music. She studied recorder with Walter van Hauwe in Amsterdam and transverse flute with Barthold Kuijken in The Hague. She has won prizes at international music competitions such as the German Music Competition (ZONTA Prize) in Bonn, the international Penderecki Competition for contemporary chamber music in Kraków and placed fourth at the international Gaudeamus Competition in Rotterdam. As a permanent member of the ensembles MAE (Amsterdam), The Roentgen Connection (Amsterdam), Studio 6 (Belgrade) and New Trinity Baroque (Atlanta), she has played concerts at numerous festivals in Europe, Russia and the USA: Musica Polonica Nova, November Music, Making New Waves, Over't IJ Festival, Musica Antiqua Perast, Klang Köln Huddersfield Contemporary Music Festival, Aldeburgh Chamber Music Festival, Dny klawesyn Wroclaw, Gaudeamus Festival Amsterdam, Wien Modern, März Musik Berlin, Incubate Festival, Dani Baroka, Gaudeamusweek, Red Ear Festival Rotterdam, Festival Harp, Piccolo Spoleto Festival Charleston, Festival Rane Muzike Beograd, Tribina Kompozitora, BEMUS, Sügisfest Tallinn, Miercurea Ciuc, Wonderfeel, Festival rane muzike Beograd, Miercurea Ciuc Early Music Festival, Swiss Music Days, Festspiele Mecklenburg-Vorpommern, Audiograft Oxford, Medimus Festival Prizren, UnMittelbaroque, Guitar Art Festival.
As a soloist she performed with Ensemble Renesans, Zagreb Soloists, New Trinity Baroque, Holland Baroque and the Philharmonie in Skoplje. She is frequently invited to orchestras such as elbipolis Hamburg, Neues Barockorchester Berlin, Märkisch Barock, Potsdamer Kantorei, Berlin Baroque, Aris&Aulis, Concerto Brandenburg, Camerata Allegra. As a teacher on period flutes, she frequently is invited to masterclasses for early music (Belgrade Baroque Academy, France Baroque and others).
Karolina Bäter participated in various CD productions for the record labels Lindoro, unsounds and konkurrent as well as in TV and radio productions by RTS digital, Radio Belgrade, NPO and BBC. As a performer-musician she worked with various theater companies in the Netherlands (De Veenfabriek and Het Veemtheater) and Germany, Berlin (Andcompany).
Olivier Garde is a harpsichordist who studied in The Hague and Amsterdam. He played, as soloist or with his ensemble l'Asnée, in many venues including the Concertgebouw Amsterdam, the Tokyo Opera City, the Hotel de Soubise in Paris, the Magdeburg Opernhaus, Spectrum NYC and the Sydney Conservatorium of Music and won the third prize with the ensemble La Follia at the 2007 Telemann competition in Magdeburg. Since 2016, he is active as artistic director for France Baroque, which mission is to promote French culture of the Enlightenment. In 2016 he also recorded Rameau's book of harpsichord pieces from for l'Asnée/France Baroque and in 2019 a second album : "les Six Cordes d'Apollon".
He's is a physical therapist as well, specialised in motor skills learning for musicians. He's convinced that a proper control of body movements and energies is the key to an expressive playing. As a result, after graduating from the Royal Conservatory in the Hague, in order to refine his technical approach to the harpsichord, he gained proficiency in the field of movement sciences, becoming a wing chun instructor in 2009 and a qualified physiotherapist in 2012 after studying for his degree at the University of Breda. In 2020 he created the project ''Biomechanical music''.
Antje Becker, born in Anklam, North-Eastern Germany, studied Baroque Flute/historical performance practice with Marion Treupel-Franck, Wilbert Hazelzet and Christoph Huntgeburth at the Universities of Music in Munich (Germany), Utrecht (Netherlands) and Berlin (Germany).
Regularly active in various orchestra formations such as the Dutch Baroque Orchestra (NL) and the Accademia di Monaco (D), she has participated in numerous CD and radio productions (Coviello Classics, NAXOS, Bayerischer Rundfunk, Concertzender). As a passionate chamber musician, Antje Becker regularly gives concerts with her ensembles at home and abroad, for example as part of the Fringe Concerts at the Early Music Festivals in Utrecht (NL, Oude Muziek Festival), Vantaa (FIN, BRQ Baroque Music Festival) and Antwerp (BE, Louse Polyphoniae); for the latter her ensemble Vergissmeinnicht was nominated for the "IYAP Selected Promising Ensemble 2019". Her ensemble Due Oratori, dedicated to the repertoire for obbligato harpsichord and flute, won the International H.I.F. Biber Competition 2019 (special prize of the Vienna Konzerthaus).
In addition to her practical music work, Antje Becker is also active in music history. She studied musicology/art history at the universities of Heidelberg and Freiburg and just completed her PhD. From 2019 to 2021 she worked as a researcher at the State Institute for Music Research Berlin, Prussian Cultural Heritage Foundation. Since 2021 she has been curator of the collection of historical musical instruments at the Braunschweig Municipal Museum.