60DKC: programme
19.10.2023-22.10.2023, 19:00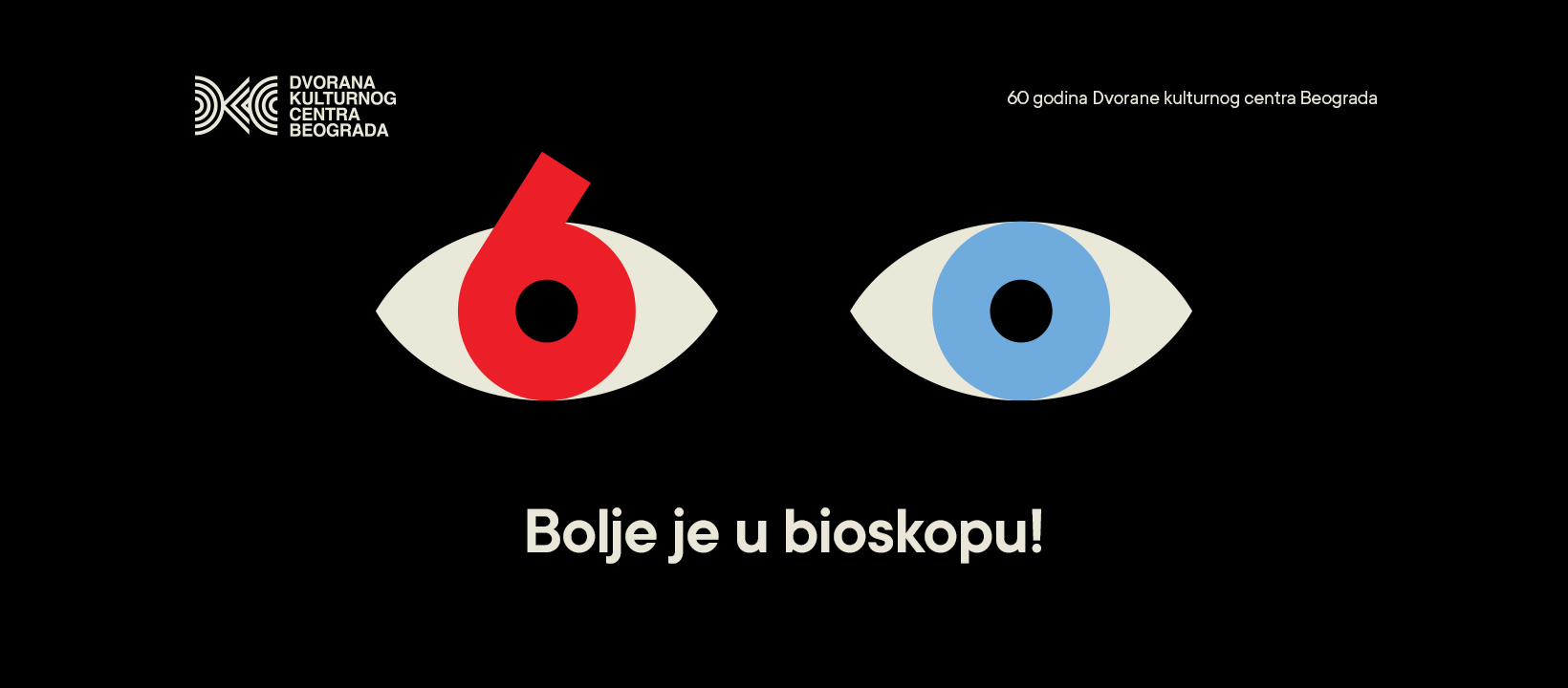 SURPRISES FOR THE 60TH ANNIVERSARY OF DKC!
(see below for detailed programme)
The Cultural Centre of Belgrade Movie Theatre is the oldest active cinema in Belgrade. It was opened on 19 October, 1963, with screenings of the animated film "The Soloist" by Nikola Majdak, the winning film at the international aviation film festival in Deauville, "Comrades," and the feature film "Radopolje" by Stole Janković, one of the laureates of Pula Film Festival. In the press of that time, it was recognised as a "specialised movie theatre primarily intended for the screening of short and documentary films" (Borba and Politika).
To celebrate the grand jubilee – its 60th anniversary – the Cultural Centre of Belgrade Movie Theatre, as the oldest active cinema in Belgrade, will launch a new festival, award honorary cinema seats to selected film authors, create a digital archive of personal stories from the cinema, host a film marathon, hold an exhibition in the Film Gallery, and introduce a new visual identity, all under the slogans "It's Better in the Cinema" and "Seats are not marked with numbers, but some are reserved."
First, distinguished authors who have left their mark on Serbian and Yugoslav cinema in the past decades will be awarded honorary cinema seats. With this gesture, which is planned to become a tradition, we pay tribute and show gratitude to directors such as Đorđe Kadijević, Zdravko Šotra, Boro Drašković, Miša Radivojević, Želimir Žilnik, Lordan Zafranović, Srđan Karanović, Goran Marković, Slobodan Šijan, Rajko Grlić, Emir Kusturica, and Darko Bajić. These seats will now be marked with their names, ensuring they always have a reserved spot in the iconic cinema. A special seat will also be dedicated to Vesna Danilović, the long-time editor of the programme. That is to say: it's better in the cinema, seats are not marked with numbers but, beginning with this year, some will be reserved for the directors that left their mark in this cinema.
If a filmmaker has been in the business long enough, they likely have at least one favourite project they worked on for years but never filmed. Inspired by a section from Rajko Grlić's book "Untold Stories," Stefan Arsenijević, a director, and the former DKC film editor, and one of the main authors of the anniversary programme's concept, is launching, in collaboration with the Cultural Center of Belgrade, a festival that we believe does not exist anywhere in the world: the first International Festival of Film Never Made. It will be a completely different opportunity to meet some of the most significant filmmakers. Like some kind of cinematic poetic justice, these films that have been waiting for so long will finally have the opportunity to meet the audience.
The Festival of Film Never Made will be opened by director Rajko Grlić (whose book served as inspiration for launching the festival), along with the writer, journalist, and screenwriter Ante Tomić, and actors Goran Bogdan and Ivana Roščić. They will present a script based on Tomić's best-selling novel "Miracle in Poskokova Draga". If you are one of the numerous fans of this novel (which has seen multiple editions in Serbia), make sure not to miss this event, as the ending of the novel and numerous dramatic lines have been completely altered while remaining uproarious.
On the second day of the festival, on Friday, 20 October, Goran Marković will present the script for an unfilmed film titled "Doctor D," which tells the story of a fictional war criminal who assumes the false identity of a quack doctor. Although the film was never made, it was recently turned into a novel. Only at the festival, the audience will have the chance to hear the original script performed by Tihomir Stanić and Katarina Marković.
On the third day of the festival, on Saturday, 21 October, Srđan Karanović will present a project he worked on for over 30 years: "Tramontana," an unexpected love story with elements of a fairy tale that spans several decades and generations. In addition to Stefan Arsenijević, producer Mike Downey will also take part in the discussion.
On Sunday, 22 October, the anniversary program will conclude with a film marathon called "Non–Stop Cinema", paying homage to the program created by the first DKC film editor, Marija Marinčić Majdak. From 11 a.m. to 11 p.m., current European films will be screened at a popular price of 200 RSD. The first two time slots on Sunday at 11 a.m. and 1 p.m. are reserved for animated films, as was the practice in the 1960s, while at 3 p.m., there is another chance to see the award-winning film "The Summer I Learned to Fly" in the cinema. As an exclusive treat, before the screenings starting at 3/5/7/9 and 11 p.m., newsreels from October and November 1963 will be shown, courtesy of Filmske novosti.
The Film Gallery will welcome you with a chronology of the most important dates in the history of the Cultural Center Hall.
It's better in the cinema! Welcome to the iconic cinema of good films!
---
For further information on the history of DKC, please visit: https://www.kcb.org.rs/en-us/2023/10/dkc-60-years-of-the-iconic-belgrade-cinema/
Stories about the cinema from distinguished directors, journalists, film theorists and associates of DKC (in Serbian): https://www.kcb.org.rs/2023/10/60dkc-price-iz-bioskopa/
60 YEARS OF THE CULTURAL CENTRE OF BELGRADE MOVIE THEATRE
PROGRAMME
Thursday, 19 October
19.00        Opening and honorary seat presentation ceremony to distinguished directors
FESTIVAL OF FILM NEVER MADE
19.30        "MIRACLE IN POSKOVA DRAGA"
Guests:
Rajko Grlić, director and screenwriter
Ante Tomić, screenwriter
Goran Bogdan, actor
Ivana Roščić, actress
Moderator: Stefan Arsenijević
According to Rajko Grlić, the adaptation of Ante Tomić's hit novel is the best script Tomić and he have ever written together.
Seven kilometers uphill from Smiljevo lies Poskova Draga, a rocky hamlet from which anyone who could leave fled. Only Jozo Poskok remained with his four young sons when his unloved wife Zora passed away, uttering on her deathbed to her stubborn husband: you piece of shit… This band of outlaws lives by its own rules, giving nothing to the state and taking everything it needs – from electricity to slave labor in the form of captured electric company workers who wandered into Poskova Draga with the ambitious intention of cutting off the Poskoks' power simply because they hadn't paid for it for several decades.
Jozo's world starts to crumble when his eldest son Krešimir comes up with the avant-garde idea to go down to Split and find a woman, not just any woman, but his old love, whom he met the only time he ventured out of his backwater.
Note for fans of the novel: the script significantly differs from the book, including the important role played by the policeman Kapulica's mother, as well as songs from the famous Split band TBF.
21.30        Supporting programme: THE CONSTITUTION OF THE REPUBLIC OF CROATIA (2016, 93'), directed by: Rajko Grlić
Free admission.
Friday, 20 October
FESTIVAL OF FILM NEVER MADE
19.00        "DOCTOR D"
Guests:
Goran Marković, director and screenwriter
Tihomir Stanić, actor and producer
Sergej Trifunović, actor
Katarina Marković, actress
Moderator: Maja Medić
K. is one of the suspects for war crimes and first hides in remote and inaccessible areas, and later in the capital, where he begins to build the perfect identity of a new personality who presents himself as Dr. D. His new persona can move freely, participate in social life, give lectures, and practice a kind of medical, or more precisely, healing practice.
His transformation is not just physical but also essential – he has changed his behaviour, way of speaking, to some extent, even his nature. Dr. D. is very conspicuous as a bioenergetic healer, and later, a kind of supernatural healer, so conspicuous that no one can suspect that someone in hiding would choose to be a person who attracts so much attention. K. begins to believe more and more that he is someone else…
A provocative project by Goran Marković that stirred up controversy.
21.00        Supporting programme: DELIRIUM TREMENS (2019, 112'), directed by: Goran Marković
Free admission.
Saturday, 21 October
FESTIVAL OF FILM NEVER MADE
19.00        "TRAMONTANA"
Guests:
Srđan Karanović, director and screenwriter
Mike Downey, producer
Parts of the script will be read by: Miloš Milovanović
Moderator: Stefan Arsenijević
In a small town on a secluded island, an old captain reconstructs his life in the form of a theatrical performance that unfolds night after night. Like a magician, using only his own logic, the old captain tells the story of his profound love for a girl he entrusted to his best friend, who was also in love with her. With the help of young actors hired from the mainland and some of the villagers, using a lot of naive scenery and amateur "special effects", he develops his own surreal and sentimental version of his life to change a fateful event and thus die content.
An imaginative and unusual love story inspired by motifs from Boris Pilnyak's story, a film Karanović has been developing for over thirty years since his student days.
21.00        Supporting programme: THE SCENT OF WILD FLOWERS (1977, 106'), directed by: Srđan Karanović
Admission to all programs of the Festival of Unfilmed Film is free, to the speech programmes as well the movie screenings.
Sunday, 22 October
NON-STOP CINEMA
Inspired by the first NON-STOP CINEMA program established at DKC six decades ago by Marija Marinčić Majdak, and as part of our jubilee, we offer our loyal audience a film marathon with a popular ticket price of 200 RSD.
Before the screenings starting at 15/17/19/21/23 hours, we will show film newsreels from October and November 1963, courtesy of Filmske novosti.
Welcome to the cinema of good film!
 
11:00 Latte and the Magic Waterstone
Animated film, synchronised in Serbian, 82'
Synchronisation director: Zoran Stojić
Voices provided by: Sofia Trifunović, Mia Trifunović, Predrag Damnjanović, Jugoslava Drašković, Jovana Cavnić, Sandra Janković, Branislav Platiša…
Recent drought has forced the forest community to guard water more carefully than usual. The only way for the forest to get water again is to return the magical water stone stolen by King Bear. Princess Latte takes on this responsibility.
13:00 Detective Cvrle and the Golden Hive
Animated film, synchronised in Serbian, 85'
In the fairytale town located between a lake and a forest, Honey Hill, residents are preparing for their favourite holiday – the City Day. On that day, all citizens have the opportunity to admire the unique Golden Hive, the protector of the city. But before the holiday, the Hive is plundered!
15:00 The Summer I Learned to Fly
Serbia, Croatia, Bulgaria, Slovakia, 2022, 87'
Director: Radivoje Andrić
Cast: Olga Odanović, Žarko Laušević, Klara Hrvanović, Snježana Sinovčić
A film about growing up and reconciliation. Twelve-year-old Sofija dreams of camping with her friends and her first kiss. However, she is forced to spend her summer vacation in the rundown family house on Hvar with her somewhat demanding grandmother Marija and quirky great-aunt Luce.
17:00 Other People's Children
France, 2023, 103'
Director: Rebecca Zlotowski
Cast: Virginie Efira, Roschdy Zem, Chiara Mastroianni, Callie Ferreira-Gonclaves…
Rachel is 40 years old and childless. She loves life, friends, her ex, guitar lessons… When she falls in love with Ali, she also becomes attached to Leila, his four-year-old daughter. She puts her to sleep, takes care of her, loves her as her own. But loving someone else's children is risky.
19:00 Jeanne du Barry
France, United Kingdom, Belgium, 2023, 113'
Director: Maïwenn
Cast: Maïwenn, Johnny Depp, Pierre Richard…
The film depicts the life of Jeanne Bécu, who was born in 1743 as the illegitimate daughter of a poor seamstress and went on to gain fame as a court lady and as the Comtesse du Barry, the last mistress of Louis XV.
Opening film of the 2023 Cannes Festival.
21:00 Holy Spider
Denmark, Germany, Sweden, France, 2022, 119'
Director: Ali Abbasi
Cast: Zar Amir Ebrahimi, Mehdi Bajestani, Sara Fazilat, Arash Ashtiani, Forouzan Jamshidnejad, Sina Parvaneh…
A series of unsolved murders of prostitutes has shaken the holy city of Mashhad in Iran: the serial killer is nicknamed "The Spider Killer". Journalist Rahimi is assigned in the newsroom to investigate this case.
Award for Best Actress at the 2023 Cannes Film Festival.
23:00 Saint Omer
France, 2023, 122'
Director: Alice Diop
Cast: Kayije Kagame, Guslagie Malanda, Valérie Dréville, Aurélia Petit
Writer Rama attends the trial of a young woman accused of murdering her fifteen-month-old daughter in northern France. During the trial, the testimony of the accused and the witnesses will shake Rama's beliefs and call into question his power of judgment.
Grand Prize of the Venice Festival 2022.
Admission per movie: 200 RSD.
---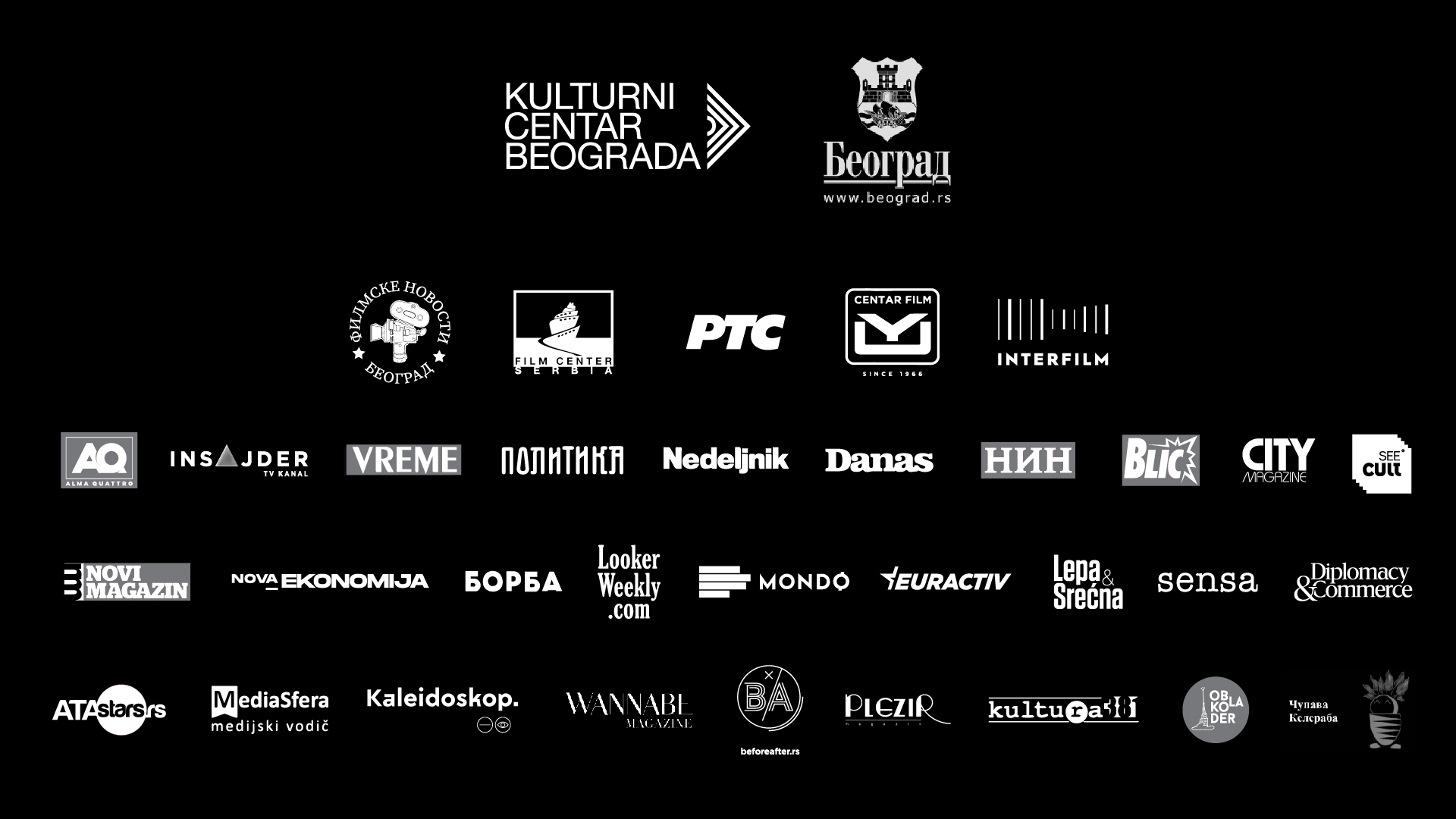 Created and organised by:
Stefan Arsenijević, Vesna Danilović
Zorana Đaković Minniti, Ivan Aranđelović, Danica Jovović Prodanović, Bojana Aleksijević, Jasmina Petković
Visual identity:
Nenad Radojčić/Braća burazeri
Public relations: Mirjana Boba Stojadinović
Social media: Anđelka Tomašević
Special thanks:
Rajko Grlić, Srđan Karanović, Goran Marković, Đorđe Kadijević, Zdravko Šotra, Boro Drašković, Miša Radivojević, Želimir Žilnik, Lordan Zafranović, Slobodan Šijan, Emir Kusturica, Darko Bajić
All authors of cinema stories
Radio Television of Serbia, Filmske novosti and Goran Tomčić
Boris Miljković, Goranka Matić
Nenad Radijčić, Zdenka Milanović