Opening concert of the First International Student Festival of Clavier Music in Belgrade
27.10.2023., 20:00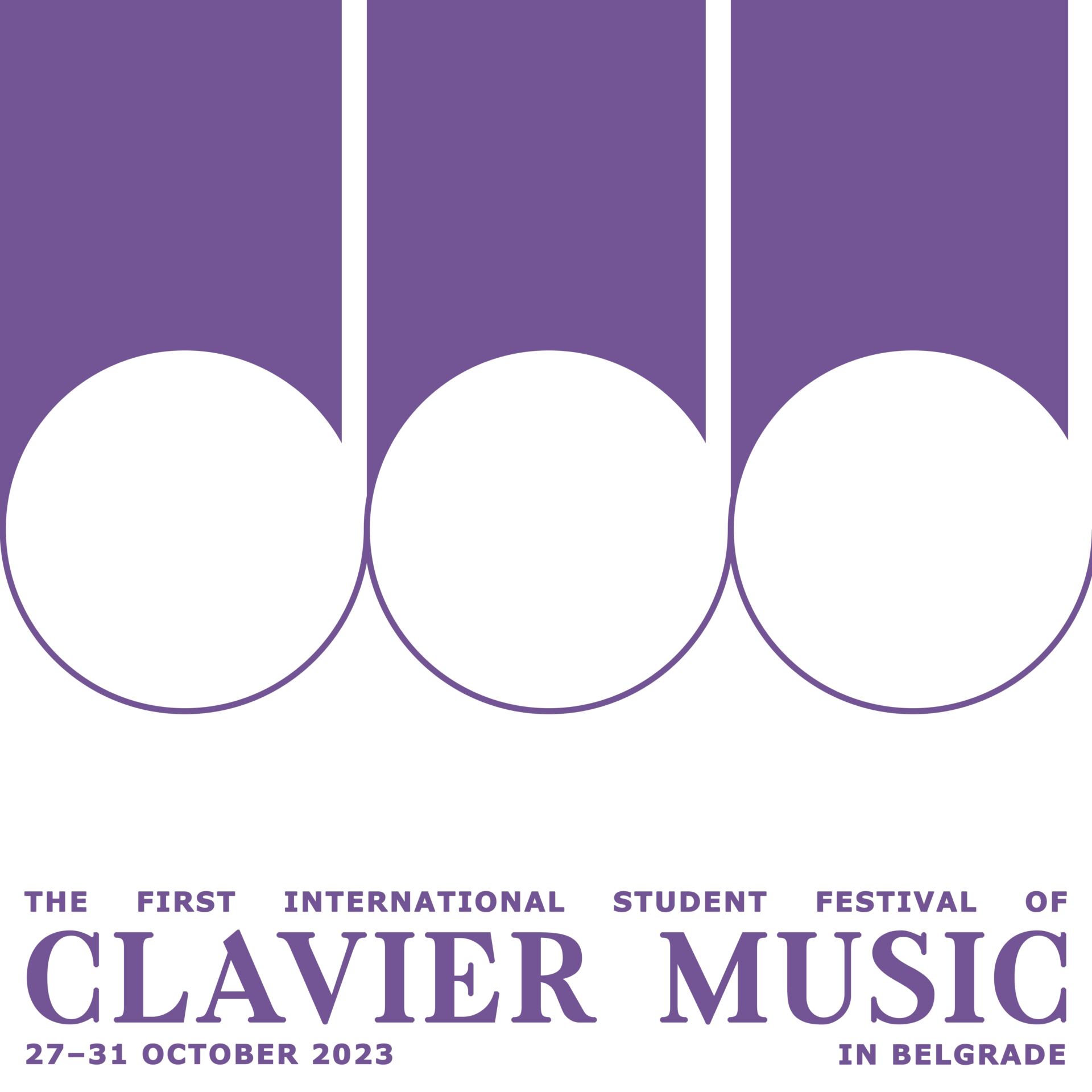 Karolina Bäter, traverso flute
Jovana Topalov, harpsichord
Aleksander Ozeritsky, flute
Aleksandr Kazakov, harpsichord and piano
Program:
Jacques Duphly
Ouvertue from Livre III
Michel Blavet
Sonata II in D minor La Vibray for flute and continuo
Andante – Allemanda – Gavotta – Sarabande – Allegro
Louis Couperin
Prelude and Chaconne from Suite for harpsichord in D minor
François Couperin
Les Barricades Mystérieuses from Second Livre de Pieces de Clavecin
Johann Philipp Kirnberger
Sonata VIII for traverso flute and continuo:
Adagio-Allegro-Allegro
Andreja Andric
Chorale VI from Chorale Book (world harpsichord premiere)
Antonio Soler
Concerto No. 1 for two keyboards in C Major
Andante-Minuet
John Rutter
Three parts from Suite Antique for flute and piano:
Ostinato-Aria-Waltz
Biographies:
Karolina Bäter is a renowned flutist in contemporary and early music. She studied recorder with Walter van Hauwe in Amsterdam and transverse flute with Barthold Kuijken in The Hague. She has won prizes at international music competitions such as the German Music Competition (ZONTA Prize) in Bonn, the international Penderecki Competition for contemporary chamber music in Kraków and placed fourth at the international Gaudeamus Competition in Rotterdam. As a permanent member of the ensembles MAE (Amsterdam), The Roentgen Connection (Amsterdam), Studio 6 (Belgrade) and New Trinity Baroque (Atlanta), she has played concerts at numerous festivals in Europe, Russia and the USA: Musica Polonica Nova, November Music, Making New Waves, Over't IJ Festival, Musica Antiqua Perast, Klang Köln Huddersfield Contemporary Music Festival, Aldeburgh Chamber Music Festival, Dny klawesyn Wroclaw, Gaudeamus Festival Amsterdam, Wien Modern, März Musik Berlin, Incubate Festival, Dani Baroka, Gaudeamusweek, Red Ear Festival Rotterdam, Festival Harp, Piccolo Spoleto Festival Charleston, Festival Rane Muzike Beograd, Tribina Kompozitora, BEMUS, Sügisfest Tallinn, Miercurea Ciuc, Wonderfeel, Festival rane muzike Beograd, Miercurea Ciuc Early Music Festival, Swiss Music Days, Festspiele Mecklenburg-Vorpommern, Audiograft Oxford, Medimus Festival Prizren, UnMittelbaroque, Guitar Art Festival. As a soloist she performed with Ensemble Renesans, Zagreb Soloists, New Trinity Baroque, Holland Baroque and the Philharmonie in Skoplje. She is frequently invited to orchestras such as elbipolis Hamburg, Neues Barockorchester Berlin, Märkisch Barock, Potsdamer Kantorei, Berlin Baroque, Aris&Aulis, Concerto Brandenburg, Camerata Allegra. As a teacher on period flutes, she frequently is invited to masterclasses for early music (Belgrade Baroque Academy, France Baroque and others). Karolina Bäter participated in various CD productions for the record labels Lindoro, unsounds and konkurrent as well as in TV and radio productions by RTS digital, Radio Belgrade, NPO and BBC. As a performer-musician she worked with various theater companies in the Netherlands (De Veenfabriek and Het Veemtheater) and Germany, Berlin (Andcompany).
Jovana Topalov is a harpsichordist from Belgrade, Serbia. She graduated piano and harpsichord at the Faculty of Music in Belgrade, after which she continued her education at the University of Illinois at Urbana-Champaign, USA where she graduated with a master degree in early music and harpsichord. In October 2018, she successfuly completed her Doctorate Academic studies at the Faculty of Music in Belgrade by defending her dissertation titled The Narrative potential of harpsichord: The elements of improvisation and musical rethoric in the interpretation of programmatic allemands and lamentations by Johann Jacob Froberger.Jovana participated in numerous Baroque masterclasses, workshops and festivals which had an important role in her professional development, and enabled her to collaborate with prominent artists in the field of early music such as Jory Vinikour, Siegbert Rampe, Davitt Moroney, Blandine Rannou, Frédérick Haas, Ruben Dubrovski, Aline Zyelberajch and others. For a number of years, she was a scholarship holder of the Austrian Baroque Academy, which granted her the Special Award for Excellence in 2011. Jovana is actively performing as a soloist, as well as a basso continuo accompanist (MCCG, SORTS, Belgrade SAXperience…). From 2012 she is a member of the musical ensemble Belgrade Baroque, which focuses on historically informed performance practice of 17 th and 18th century music, playing on replicas of period instruments. Jovana is the president and one of the founders of the Belgrade Baroque assosciation whose goal is the promotion of higher values of musical and performing arts, with a special focus on the music of  17th and 18th centuries. Since May 2022 she is teaching harpsichord and ensemble playing at Early Music department in MS Josip Slavenski, Belgrade.
Alexander Ozeritsky was born in Moscow. In 1998 he graduated from the Moscow Gnessin Secondary Special Music School and entered the Gnessin Russian Academy of Music in the class of Associate Professor Vladimir Kudri. While studying at the academy, he became a laureate of the "Virtuosos of the 21st Century" competition and began his professional career as an orchestral musician in the Moscow Symphony Orchestra under the direction of Vladimir Ziva. After graduating from the academy in 2003, he entered graduate school at the Moscow State Conservatory named after P.I. Tchaikovsky in the class of Honored Artist of the RSFSR, Professor Alexander Golyshev. He worked as a soloist in various Moscow groups. In 2005, he participated in the Russian-American Youth Orchestra tour as a soloist. In 2006, following a competitive selection, he was accepted into the flute group of the National Philharmonic Orchestra of Russia under the direction of People's Artist of the USSR Vladimir Spivakov. From 2012 to 2022 he worked as a soloist-regulator of the flute group of the Mariinsky Theater Bolshoi Symphony Orchestra. Alexander Ozeritsky is Yamaha Artist.
Aleksandr Kazakov – musician, composer, lecturer, organizer. Laureate of international and all-Russian competitions on various musical instruments (organ, harpsichord, piano, accordion), participant in festivals and master classes (among them Ars vivendi clavicembalum and Dies Organorum, Serbia, Aberdeen International Youth Festival, Scotland; Russian music concerts in Denmark), as well as projects by Minnus Trelligh, Vysoko, Kandinsky orchestra; founder and artistic director of the Lucis Art Ensemble. Organizer and artistic director of the Cinema//Theater group, as well as the first international student festival of CLAVIER MUSIC in Belgrade.
Complete program of the First International Student Festival of Clavier Music in Belgrade
Friday, 27th October at 20:00
Artget Gallery
Karolina Bäter
Jovana Topalov
Aleksander Ozeritsky
Aleksandr Kazakov
Sunday, 29th October at 20:00
Artget Gallery
Chiara Cattani
*concert of the 20. International Festival Ars vivendi clavicembalum – Harpsichord, Living Art
Monday, 30th October at 17:00
Adventist Church
Daniel Zaretsky's Lecture
The History of Organ Culture in Russia
Monday, 30th October at 19:00
Hall of Music School Josip Slavenski
Harpsichord Students and Chiara Cattani
Tuesday, 31st  October at 19:00
The Cathedral of the Blessed Virgin Mary
GALA
Organ Students and Daniel Zaretsky
with guests
Entrance is Free