19. Free Zone Film Festival / 01.11.2021.
01.11.2023., 12:00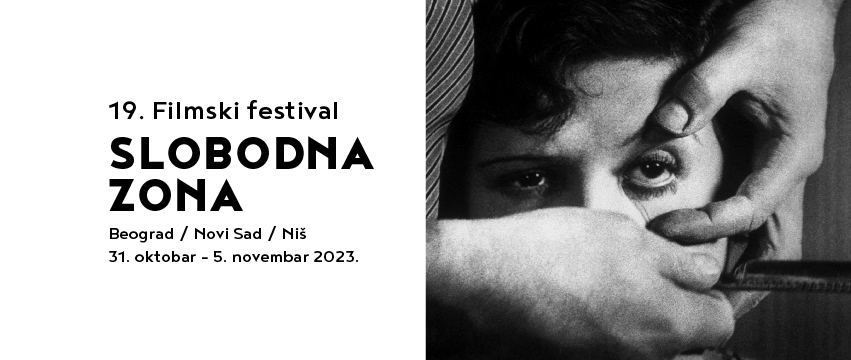 19. Free Zone Film Festival
12:00
FALCON LAKE
France, Canada, 2022, 100'
Director: Charlotte Le Bon
Cast: Joseph Engel, Sara Montpetit, Monia Chokri…
Bastien and Chloé spend their summer vacation with their families at the lake in Quebec. The shy 13-year-old Bastien and his family are staying at a friend's cottage, where Bastien meets the bold 16-year-old Chloé. She is a fan of folklore and local legends and tells Bastien a ghost is haunting the nearby lake. Despite the age gap between them, the two teenagers form a firm bond. Being ready to overcome his worst fears to earn a place in Chloé's heart, the holiday becomes a turbulent pivotal moment for the young boy.
Festivals / Awards: Chicago International Film Festival – Gold Hugo in New Directors Competition, Deauville Film Festival – Prix d'Ornano-Valenti, Vancouver International Film Festival – Emerging Canadian Director, Bucharest International Film Festival – Grand Prize
16:30
TILL THE END OF THE NIGHT
Germany, 2023, 120'
Director: Christoph Hochhäusler
Cast: Timocin Ziegler, Thea Ehre, Michael Sideris…
In order to gain the trust of a drug dealer Victor, undercover cop Robert has to pretend to be lover of a transgender person Leni. The police hope her ties with the felon will help to infiltrate the organization. However, while this part of the plan works relatively smoothly, their now fake relationship used to be a real and emotional one, before Leni's transition. The irony is that it is Victor the one who will make Robert confront his conflicting feelings of love.
Festivals / Awards: Berlin International Film Festival – Silver Berlin Bear for Best Supporting Performance (Thea Ehre)
19:00 WHAT'S TO BE DONE?
Documentary
Croatia, 2023, 79'
Director: Goran Dević
Željko is a labor representative at the Gredelj railway car factory and is fighting against the Government's decision to force the factory into bankruptcy. Pressured, his deputy Mladen commits suicide, which awakens a strong feeling of guilt in Željko he has to handle, whilst still representing the workers' rights and interests. What's to be done? is the paradigm of European post-communist countries and represents a chronicle of the workers' lives, who became the losers of the transition. While actively working on the fall of the communist system, many of them didn't manage to adapt to the new order's market rules. The film's documentary part was filmed over ten full years.
Festival: Sarajevo Film Festival
* Q&A after the screening
21:00 BREAKING SOCIAL
Documentary
Sweden, Netherlands, Norway, Switzerland, Finland, 2023, 93'
Director: Fredrik Gertten
All societies are based on the idea of a social contract: if we work hard, treat others with respect and play by the rules – we will be rewarded. However, there are the rule breakers – those who make use of tax havens and reap profits without paying back to society. Breaking Social looks at global patterns of kleptocracy and extractivism such are an assassinated investigative journalist in Malta or a river without water in Chile. When people reach a tipping point, they start to organize and protest. We will see those already fighting on the frontlines of social uprisings across the world. Breaking Social explores the possibilities of overcoming injustice and corruption.
Festivals: CPH:DOX, Dokufest International Documentary and Short Film Festival
* Q&A after the screening