19. Free Zone Film Festival / 02.11.2023.
02.11.2023., 12:00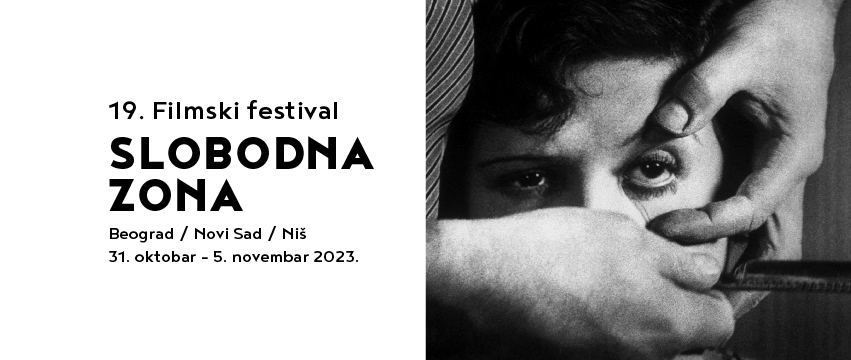 19. Free Zone Film Festival
12:00
IT'S RAINING IN THE HOUSE
Belgium, France, 2023, 82'
Director: Paloma Sermon-Daï
Cast: Makenzy Lombet, Purdey Lombet, Donovan Nizet, Amine Hamidou, Louise Manteau…
In the midst of a hot and stormy summer by a tourist lake, seventeen year old Purdey and her younger brother Makenzy walk the line between experiencing adolescence, finding love and fending for themselves. While Purdey works as a cleaner in a hotel complex, Makenzy makes some money by robbing tourists. Left to their own devices, they must learn to support each other in a surprisingly tender journey that chronicles what feels like the last summer of their youth.
Festival / Awards: Cannes Film Festival – French Touch Prize of the Critics' Week Jury
16:30
NUMBER MY WANDERINGS
Germany, 2022, 72'
Director: Dušan Solomun
Cast: Florian Denk, Selin Kavak, Jelena Bosanac, Vera Maria Kremers…
In a church, a priest receives a group of refugees. In a bizarre and exaggerated way, the refugees confront the bureaucracy that German institutions operate. The church serves as a hodgepodge of the most diverse institutions. Finally, the workers in this institutional mechanism turn out to be victims of the apparatus. A team of professional actors and non-professionals, political and war refugees from Syria, Turkey and Ex-Yugoslavia, act out situations that they have personally been in. Based on their experiences with the authorities, but also his own, the director created a Kafkaesque, surrealistic and symbolic film with many ironic and humorous details.
19:00
SIRIN
Montenegro, 2023, 87'
Director: Senad Šahmanović
Cast: Danica Ćurčić, May-Linda Kosumović, Jasna Đuričić
Sanela left former Yugoslavia right after the war broke out. At just 18 years old, she went to the USA and did everything to adapt to her life abroad. Wanting to erase her foreign heritage, she changed her name and became Natalie. Now a lawyer, she accepts an unusual inheritance case, which leads her back to her motherland for the first time in 20 years: a wealthy, unmarried woman from Montenegro left a certain amount of money to the Orthodox church in her hometown for them to build a chapel on her behalf. Torn between her new Western identity and the one she had erased, Natalie starts noticing unsettling parallels between her own life and that of the deceased woman, while the legal case becomes her personal one.
Festivals: Sarajevo Film Festival, Herceg Novi Film Festival
21:00
20000 SPECIES OF BEES
Spain, 2023, 125'
Director: Estibaliz Urresola Solaguren
Cast: Sofía Otero, Patricia López Arnaiz, Ane Gabarain, Itziar Lazkano…
20,000 Species of Bees is set in the beautiful landscapes of the Basque countryside and nature. The young actress Sofia Otero received the Silver Bear for her portrayal of a child's search for identity in the early stages of her childhood. The excellent character portrayal in this wonderful film was assisted by the director's decision to gradually reveal the child's fears, uncertainties, and inquiries about why she is not like others. Her mother helps her deal with these struggles, herself caught in the ambivalence of the legacy she's inherited from her parents. Just like an abundance of bees contributes to nature's diversity, this predominantly female environment displays the many ways it is possible to be a woman.
Festivals / Awards: Berlin International Film Festival – Silver Bear for Best Leading Performance, Málaga Film Festival – Golden Biznaga for Best Spanish Picture, Seattle International Film Festival – Official Competition Grand Jury Prize