Great Expectations – Austrian Film Festival
23.09.2021-27.09.2021, 19:00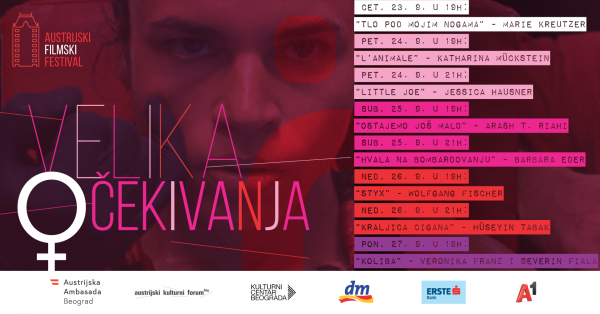 Great Expectations – Austrian Film Festival
While developing the concept for this year's Austrian film festival, we asked ourselves What is essentially a women film? A film made by a woman or a film that deals with "women topics"? That posed the question of what are "womens topics", who decided on them and how limiting they are for the women authors? Creating implies complete freedom, regardless if relating to themes or form. And yet, when we speak of women, the idea of freedom and its conquering follows naturally. Considering all these questions and traps, we realised that they are in one way or another explored by the authors of our selection. It seems that neither us, nor they, have found the final answer to What constitutes a women film, but we think that having a platform to question, debate and rethink it is far more important. Precisely this is the wish and aim of this festival.
In our selection, we wanted to cover the broadest spectrum of topics, such as gender identity and coming of age (L'Animale), sisterhood and motherhood (Boden unter der Fussen, Goodbye Mommy, Little Joe), breaking the borders – whether it be physical, corporal or geographical (Gyspy Queen, Joy, Styx). The absolute imperative in selecting was the undoubted quality of these contemporary and relevant works, unrelated to this year's concept. This is why we choose to name this year's festival The Great Expectations. The filmmakers presented have certainly raised our expectations of what film is and could be, as well as make us expect more from them in the following years. But more importantly, expectations are also at the core of all these films: the ones women place on themselves and the ones the society does. Sometimes they are oppressive, sometimes inspiring. We hope that watching these films widens the field of what it means to be a woman, as well as present what is specific about a female angle, when it is turned inwards.
Staša Bajac, filmmaker, playwright & script consultant
 "The Ground Beneath my Feet" Marie Kreutzer / 23.9.2021. / 21.00
"L'Animale" Katharina Muckstein / 24.9.2021. / 19.00
"Little Joe"  Jessica Hausner / 24.9.2021. / 21.00
"Oskar & Lilli" Arasha T. Riahija / 25.9.2021. / 19.00
"Thank you for Bombing" Barbare Eder / 25.9.2021. / 21.00
"Styx" Wolfganga Fischera / 26.9.2021. / 19.00
"Gipsy Queen" Huseyina Tabaka / 26.9.2021. / 21.00
"The Lodge" Veronike Franz i Severina Fiale / 27.9.2021. / 19.00
You can buy tickets at the price of 300.00 dinars at the ticket office from 16.00 to 21.00.