REZULTATI KONKURSA ZA PROGRAM GALERIJE PODROOM ZA 2019. GODINU
18.07.2018, 12:00-20:00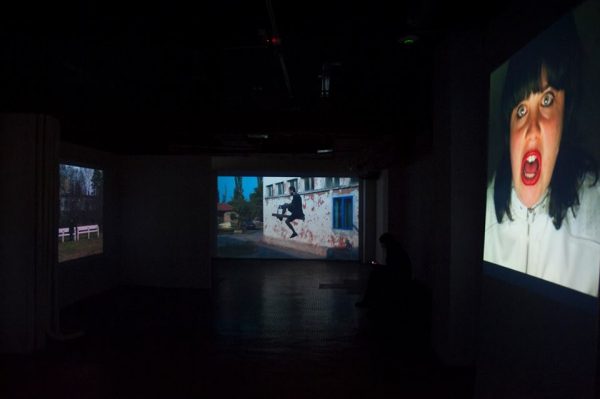 scroll down for English version
Savet, u jednogodišnjem mandatu 2018. radio je u sastavu: Branka Benčić, istoričarka umetnosti i kustoskinja iz Hrvatske, Srđan Keča, reditelj i docent na Departmanu za umetnost i istoriju umetnosti Univerziteta Stanford i Zorana Đaković Minniti, koordinatorka međunarodne saradnje i programa galerije Podroom.
Pored izložbi koje je Savet odabrao u izlagačkom programu naredne godine biće organizovane i sledeće izložbe i projekti: izložba Predraga Terzića (Srbija) i Ivara Vermaea (Estonija) koja je preneta u januar 2019. zbog održavanja 57. Oktobarskog salona u galerijama KCB-a,  12. izdanje Međunarodnog umetničkog filma (Artists' Film International), izložba Games and Politics u saradnji sa Gete institutom, samostalna izložba dobitnika nagrade Kulturnog centra Beograda na 53. Oktobarskog salonu, Karstena Konrada (Nemačka) koja u predviđenom terminu nije mogla biti održana zbog opravdane sprečenosti umetnika i izložba po pozivu Anice Vučetić (Srbija).
Savet galerije odabrao je sledeće izložbe/projekte:
•izložba Remote Conflicts Dionisa Eskorse (Dionis Escorsa), Španija, na predlog kustosa Arto Ušana (Arto Ushan), Rusija/Nemačka; izložba Everything coming together while everything's falling apart Olivera Reslera (Oliver Ressler) na predlog kustosa Dejana Vasića, Srbija; izložbe Hodnik Ane Adamović, Srbija, Lee Vidaković, Srbija i Matije Debeljuha, Hrvatska – kao predlog Saveta za zajedničku izložbu; izložba Signs Fatluma Dočija (Fatlum Doçi), Albanija, na predlog kustosa Marka Stamenkovića, Srbija i tri međunarodne grupne izložbe: IVA lab (inter_video_actionlab) na predlog kustoskinje Slađane Petrović Varagić, potom izložba pod radnim nazivom Migracije na predlog kustoskinje Mirjane Dragosavljević i izložba pod radnim nazivom Representations Interrupted na predlog kustoskinja Helen Laršon Puset (Helene Larsson Pousette), Švedska i Lee Vene, Hrvatska.
Odabrani umetnici/ce i izložbeni autorski projekti u fokusu imaju pokretne slike kroz koje preispituju moguće načine reprezentacije i percepcije same slike i to kroz sopstveno iskustvo i sećanje. Otvarajući potencijalni dijalog na temu produkcije slike, svi ispituju različite mogućnosti konstrukcije narativa i vizualnog pričanja priče koji su vezani za brojne aspekte ovog medija. U skladu sa programskom orijentacijom galerije većina predloga je međunarodnog karaktera i/ili otvara prostora za budućim saradnjama, predstavljajući umetničku video produkciju iz susednih zemalja i primere edukativnih platformi koje podržavaju produkciju video umetnost.
Zahvaljujemo se svima koji su poslali svoje predloge, žao nam je da nije bilo više slobodnih termina i čestitamo onima čiji su predlozi odabrani.
17.jul.2018.
……
RESULTS OF THE OPEN CALL FOR PODROOM GALLERY IN 2019
Board for 2018 consisted of Branka Bencić, art historian and curator, Srdjan Keča film director and lecturer at the Department for Art and Art History at the Stanford University USA and Zorana Djaković Minniti, coordinator for international cooperation and program at the Podroom gallery.
Besides exhibitions that have been selected as a part of the program for the next year following projects and shows will also be featured: Predrag Terzić (Serbia) and Ivar Veermäe (Estonia) selected at the previous open call but carried over into 2019, 12thedition of the Artists' Film International, long term cooperation project between Cultural Centre of Belgrade and Whitechapel  gallery from London, Games and Politics show in collaboration with Goethe Institute, solo exhibitions of Karsten Konrad (Germany), winner of the Cultural Centre Belgrade award at the 53rd October Salon, that was delayed due to the understandable fact of the artist being detained and  Anica Vučetić (Serbia).
Gallery Board has selected following exhibitions/projects:
•Remote Conflicts – Dionis Escorsa, Spain, curated by Arto Ushan, Russia/Germany; Everything coming together while everything's falling apart  – Oliver Ressler, curated by Dejan Vasić;  Hallway, Ana Adamović, Serbia, Lea Vidaković, Serbia and Matija Debeljuh, Croatia as a joint exhibition initiated by the Board; Signs – Fatlum Doçi, Albania, curated by Marko Stamenković, Serbia; three international group shows: IVA lab (inter_video_actionlab) curated by Sladjana Petrović Varagić, then exhibition with working title Migrations curated by Mirjana Dragosavljević and exhibition with the working title Representations Interrupted curated by Helene Larsson Pousette, Sweden and Lea Vene, Croatia.
Selected artists and projects focus on moving images that they use to question possible ways of representation and perceptions of the image itself as a part of the memory and experience. Initiating one possible conversation on the subject of production of image selected projects explore different ways of constructing a narrative and visual storytelling as connected to numerous aspects of the said media. In accordance with the gallery program policy most of the selected projects have international scope and/or opens up possibility for future collaboration by presenting regional video production as well as examples of didactic platforms supporting video art production.
We would love to thank everybody who submitted their projects, we are sorry that we are limited with time slots and we congratulate those whose projects have been selected.
July 17, 2018