Konferencija "Audience Development within Classical Music 2022"
13.05.2022., 10:00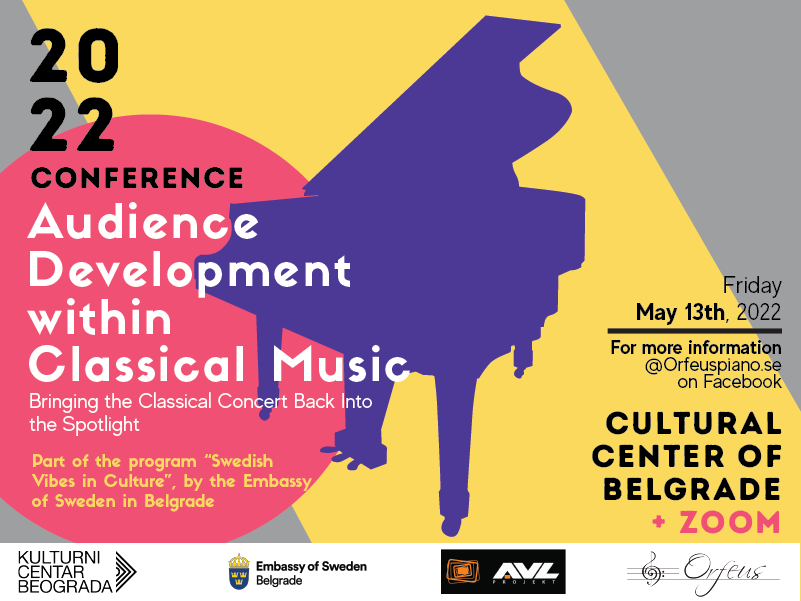 Međunarodna konferencija o razvoju publike klasične muzike u organizaciji Orpheus Culture Project Agency traje već 4. godinu za redom. Ove godine će se ponovo održati u Kulturnom centru Beograda. Konferenciju je podržala Ambasada Švedske u Beogradu kao deo programa Swedish Vibes in Culture.
Konferencija se održava na engleskom jeziku u Galeriji Artget i namenjena je muzičarima, studentima muzike, kulturnim menadžerima, PR agentima, aktivistima, novinarima i radnicima u kulturi. Ukoliko želite prisustvovati konferenciji, potrebno je prijaviti se na ovom linku.
Tehničku podršku projektu obezbedio AVL Projekt Int. DOO.
PROGRAM KONFERENCIJE
09:30-10:00
Registration in the hall
10:00-10:15
Welcome speech
Zorana Djaković Minniti, Assistant Director for Programmes, Cultural Center of Belgrade, Serbia
Milica Lundin, pianist, culture project manager Orfeus Culture Project Agency, Sweden
10:15-11:15
PANEL 1: Musical education as an audience development strategy
Different teaching models/methods/tools and their dependence on national cultural policy; Digital versus acoustic instruments in teaching; Sound engineering; Private and online teaching; Private versus public music schools.
Moderator:
Milica Lundin, pianist, culture project manager Orfeus Culture Project Agency, Sweden
Panelists:
Patrick Jovell, pianist/ piano pedagogue/ journalist, Sweden
George Fredrick Litterst, pianist, CyberConservatory, USA
Professors Aleksandra and  Vojislav Ivanović, Music Academy in East Sarajevo, BIH
Dobrivoje Milijanović, Phd sound designer, lecturer at Faculty of Drama, University of Arts, Serbia

11:15-11:45
Discussion
12:00-13:00
PANEL 2: Musical materials and copyrights
Accessibility of classical scores and other materials; Copying school texts and music sheets; Online and digital sale; Instruments and their maintenance.
Moderator:
Marijana Dujović, musicologist, Serbia
Panelists:
Boris Vrbanec, concert piano technician, general manager at PIANO LAND, Serbia
Ann-Charlotte Hell, program director Live Cultural Heritage, Royal Academy of Music, Sweden
Eva Helenius, director, museum Klaverens Hus, Sweden
Pavle Pavličić, solicitor, SOKOJ- Organization of Music  Authors of Serbia
Filip Krumes, violinist, luthier, Serbia
13:00-13:30
Discussion
13:30- 14:30
Lunch
14:30- 14:45
Registration in the hall
14:45-15:45
PANEL 3: New, post-pandemic ethics in the world of classical musiRespecting the audience's wishes; Balance between funding and programing; Common values of production-audience-performance team; How to execute a friendly media campaign in post-covid times?
Moderator:
Milica Lundin, pianist, project manager Orfeus Culture Project Agency, Sweden
Panelists:
Prof. Maja Rajković, pianist, Faculty of Music, University of Arts, Serbia
Vesna Marjanović, General secretary of Europa Nostra, Serbia
Prof. Danijel Cerović, guitarist, founder/ general director of  Guitar Festivals in Nikšić and Tivat, Montenegro
Jovanka Višekruna Janković, pianist, founder/ director ArtLink Festival, Serbia
15:45-16:15
Discussion
16:15- 17.15
Conclusions/recommendations of the conference
18:00.19:00
WORKSHOP: Become a cultural entrepreneur
Right motivation for the startup of a cultural agency/school/studio; Which difficulties should you expect?
Coach:
Boško Radojković, guitarist, Founder/director Guitar Art Festival, Serbia